NFL (too early) NFC Playoff Predictions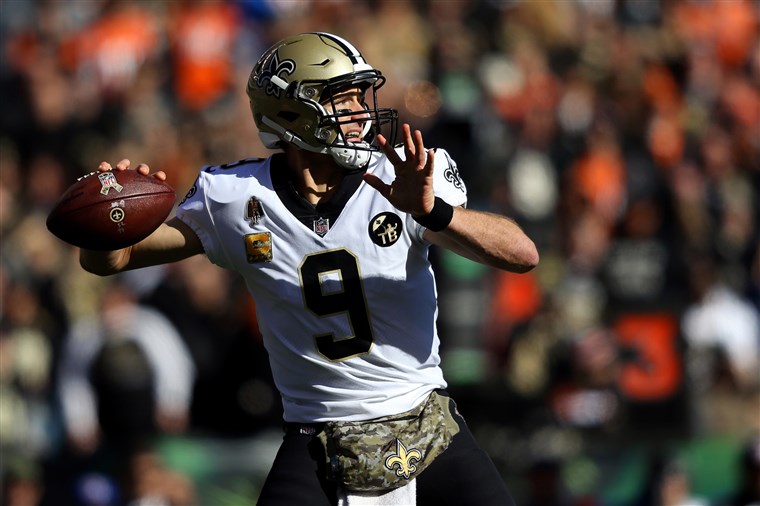 Coley Snyder, Staff Writer
November 4, 2019
NFC – BYE TEAMS  
New Orleans Saints (7-1) – The Saints are once again a complete team and most definitely a title contender this year. Even with serious injuries to the squad, with Brees having been out for a while and Kamara having minor problems, they still perform. They also have a great defense, a good 1 2 punch on the ground with Kamara and Murray, and a deadly receiving core led by Micheal Thomas. As long as Brees plays at the high level he has always played, the Saints could be the top team this year. 

San Francisco 49ers (7-0) – It hurts my feelings not to put the Packers up here, (I'm a cheesehead), But the 49ers are the better team. Kyle Shanahan has done a phenomenal job with the team, offensively and defensively. Let's start with the offense. Garropolo has proven to be a solid starter, and Tevin Coleman clearly has the potential to do well in the postseason as well. 
NFC Regular Teams 
Green Bay Packers (7-1)  – the Green Bay packers are easily one of the best teams in the NFC, and they have a shot at going all the way this year. New Head Coach Matt LaFleaur has been a sensation since entering with the team. Aaron Rodgers is playing at a high level too, and that is thanks to their offensive line. They have given Aaron Rodgers the time he needs, (the time he did not have last season) to perform. Their defense has been very good too, with the key free agent additions of Preston and Za'Darius Smith(s). They have been flying to the ball, and forcing many sacks/turnovers. The Packers are a contender for the title to come home this year. 

Los Angeles Rams (5-3) – The Rams are the team I picked to pick up the Wild Card spot this year. They have a lot of depth, and Goff has been more comfortable in the pocket than he used to be. The Rams have a good rushing attack and coaching, as they were a Superbowl caliber team last year, so you have to give them the respect they deserve. Todd Gurley has slowed down from his record season last year, but that should not make you worry that he won't perform in the playoffs. The Rams, led by Sean McVay and an impeccable defensive line, have a shot this year. 

Seattle Seahawks(6-2) – The Seahawks have always been a playoff/wildcard team, and they have another shot this year. Pete Carroll has done a good job once again with his squad, and drafted well with the addition of D.K. Metcalf. They have a good rushing and passing attack. 

Dallas Cowboys (4-3) – America's team had a hot start to the season and slowed down after, dropping to 3-3. They bounced back last week with a win, and I think that they can recover from the early season struggles and secure a spot in the playoffs. They have been a quality team for a while, with Prescott really playing well alongside Zeke, which in my opinion, is the most consistent talent in the NFL. There are a lot of superstars on that team like Amari Cooper, Demarcus Lawrence, Jalon Smith, and others.