Oratory Prepares for Game with Seton Hall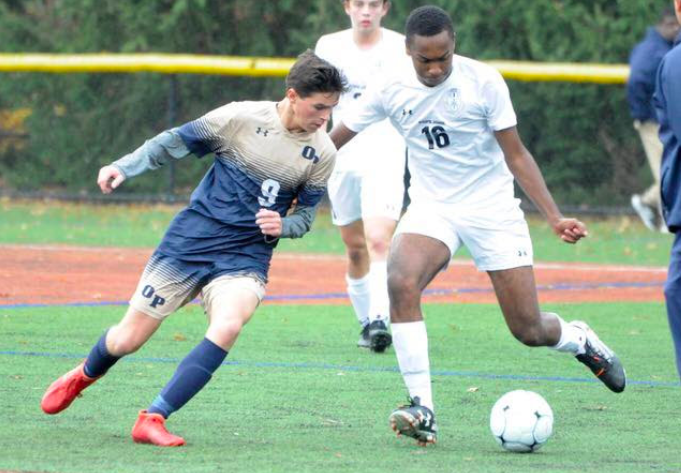 Oratory has long been a competitor in the New Jersey State tournament. This year, the team is competing in the Boys Soccer 2019-2020 – NJSIAA North Jersey, Non-Public A Tournament, and played their first round on Tuesday, October 29th against Pope John where Oratory, ranked 7, came out with a win over 10-seed Pope John. This means Oratory will move on to the next round of states. Today, November 1st, Oratory will face 2-seed Seton Hall Prep at Seton Hall at 2 pm for round 2.
The team was expecting nothing less than a crushing win from their first-round game, and, luckily, they more or less achieved this goal. Though almost everyone was expecting a higher goal differential from Oratory, they nonetheless came out, played a great game, and ended up winning 1-0. 
The mist/rain did not help the team, though. As any soccer player knows, playing on turf during these conditions drastically changes the play. The moisture makes the turf much more slippery, especially since it's artificial, which primarily affects the ball's speed and direction. Bounces are much harder to judge as they skip much faster, which, on a bad break, could be extremely dangerous for either team. Senior Jack Coyne, though, kept a clean sheet throughout the game (with help from the defense, of course), making multiple noteworthy saves that made the Rowdies go crazy.
In attempts to increase the number of Rowdies at the game, school was let out at 2:20 pm instead of 2:40 pm. Students had the opportunity to either leave or stay, unlike last year where students were let out early but forced to stay and watch the game until 2:40. While many students did leave at 2:20, many stayed as well. In fact, it appeared that the game brought the most amount of Rowdies that OP Soccer has seen to date, but hopefully not the most all year with their game against Seton Hall tomorrow. 
To improve the numbers in the stands for Oratory's game against Seton Hall Prep, the administration has decided to allow seniors to be dismissed at 1:00, giving the class enough time to reach West Orange for this exciting game. A quick informal survey of the senior class showed the majority of its members planned on attending the event, vowing their support for OP. 
Today's game will potentially be one that goes down in the history book of Oratory sports, and with support from the best Rowdies, seniors, Oratory is sure to return to Summit victorious and ready to take down another team. Go Rams!