Rams Run Together at Oak Ridge Looking for Another Conference Championship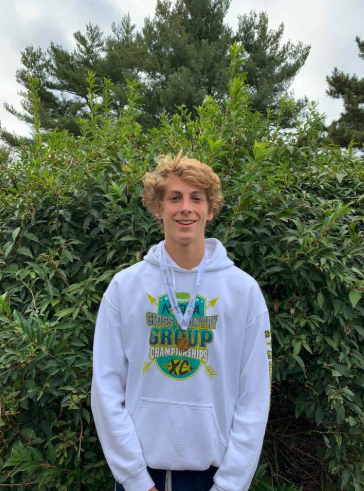 Logan Drone, Staff Writer
October 29, 2019
Hang on for a minute...we're trying to find some more stories you might like.
On Thursday, October 17th, the OP Cross Country team left class early and traveled to Clark looking to defend their conference championship from last season. On a day where winds were as high as 30 MPH, a strategy was going to be needed in order to try and defend the Rams conference championship. The strategy was inevitably simple; have the bottom three runners for Oratory go out for a fast start, and once the middle runners for the Rams were running into the wind, those bottom three runners would run in front of these middle runners to block the wind. This strategy was used for the middle runners for Oratory, the runners who would score, to reserve energy for later on in the race where they could then blow passed the gassed competition of New Providence and Governor Livingston. This strategy is known as drafting, and the bottom three runners for varsity, Logan Drone, Gus Russo, and Jake McChesney, all drafted perfectly for the top runners for Oratory. In the top half of the race, OP senior Max Russo finished in 1st place with a 15:58 5K, breaking the course record and the OP school record as well. Rounding out the top 4 runners for Oratory varsity after Max in order were Ciaran Bowler, Will Heffernan, Brendan Kleinle, and Aidan Watkins. These runners all ran to the best of their abilities, running an average of 17:29. However, this was not enough to win the conference, as teams like Elizabeth and Governor Livingston improved drastically in order to come out on top. After a great race, the rams finished in 4th place this year behind Governor Livingston, New Providence, and Elizabeth respectively
On the JV side, runners for Oratory had to run against teams from the county, including powerhouse squads in Summit, Westfield, and Union Catholic. Even with these top schools, the Rams prevailed, coming in 5th place in this conference race. OP runners Aidan Philbrick and Brandon Franks both ran sub-19 for the Rams, proving that the OPXC team will remain in good hands once the senior class graduates. For the rest of the OP runners, more than half PR'd, or ran a personal best at the race last Thursday, showing hard work truly does pay off for these runners. The next race for the JV and Varsity squad will take place this Tuesday, October 29th, where the Rams will run at Warianco Park in Roselle for the County Championships.