The New Jersey Devils Have a Shaky Start to the Season.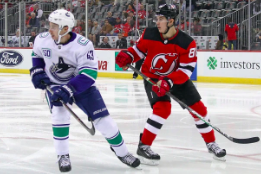 After six games into the regular season, the New Jersey Devils were yet to win a single game. This past week, they finally picked up two wins. After acquiring the No.1 draft pick Jack Hughes, KHL star Nikita Gusev, and solid veteran players P.K. Subban and Wayne Simmonds, the Devils had incredibly high expectations going into the season. So is the problem goaltending?
After last Monday's loss against the Florida Panthers, Corey Schneider's save percentage dropped to .876 and 4.09 goals-against average. Those are below average stats for NHL goaltenders, and they don't look great compared to his .91 career save percentage. While Schneider's stats are below what they should be, the Devil's offense is also struggling. 
Last Saturday, the Devils suffered a 3-0 loss to the Bruins, so regardless of how Schneider played, the team still failed to put up a single goal. Projected all-star Jack Hughes just recently put up two points but is still -4 overall. The Devil's defense has also let up numerous odd-man rushes, which have resulted in goals against. While the team has struggled quite a bit, their offense has been doing pretty well at home.
In the first game of the season and last week, the Devils had given up 4-1 leads going into the third period. Last Monday, they gave up five goals in a row against the Panthers and four in a row against the Jets. So evidently, the team's defense as a whole is underperforming. Overall, the Devils need to pick up every aspect of their game. 
While the New Jersey Devils had a very rough start to the season, their two consecutive wins could have sprouted new life into the young team.