2019 OP Talent Show Recap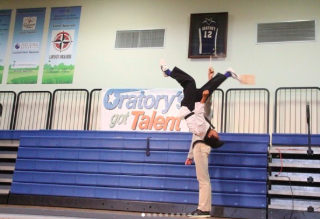 Last Friday marked the end of Spirit Week at OP and it ended with some very talented Oratory students showing off their skills at the 2019 talent show.
Many singing performances stood out like the first act of an impressive group of seniors singing the classic, "We are the World" with a standout triangle solo. Some standout solo singers were junior, Emerson Orr singing, "The Boys are Back in Town" and Sophomore Christian Simms singing, "I Want It That Way." Declan McKee and Jeff Jarvis also got on stage to sing, "Breaking Free" A group of mixed sophomores, juniors, and seniors also got up and sang, "Wonderwall." Mr. Crum played an original song on his guitar and senior, Jack Coyne, played an impressive rendition of Slayer's Postmortem. The final musical performance came from seniors, Joe Del Sol and George Castro who rapped an original song with a surprise appearance from Father Scott who rapped his own verse.
Some non-musical acts included a food eating competition between seniors, Ty Cross and Ezra King. The two had to eat 12 Oreos and drink a cup of hot sauce and a bottle of water. The match was intense to watch and ended with Ezra taking home the victory. Other competitions included the long-awaited arm-wrestling match between juniors, Tom Lamonte and Vin Cilli. The match was commentated by juniors Will Heffernan and Aidan Philbrick. After 2 intense matches Vin beat Tom 2-0. The final competition was a spelling bee between various juniors, seniors, and Mr. Gaertner. The group hand to spell words like handkerchief and various business terms.
Our third-place winner was freshman Connell Gorman who played the guitar and sang Gravity by John Mayer. Second place went to another freshman, Marcus Lee who gave a hilarious stand-up comedy set that left everyone jumping out of their seats. Finally, first place went to sophomore Jake DeGuzman who got a perfect score for his impressive taekwondo skills and many awesome tricks to break wooden boards including a backflip to hit a board held by Tommy Conniff who stands at an impressive 6 feet 8 inches tall.
All together the students here at OP really showed off their skills this year and entertained everyone in the audience giving the school a great ending to a great spirit week.