An Inside Look at Mr. Schultz's AP Calculus BC Class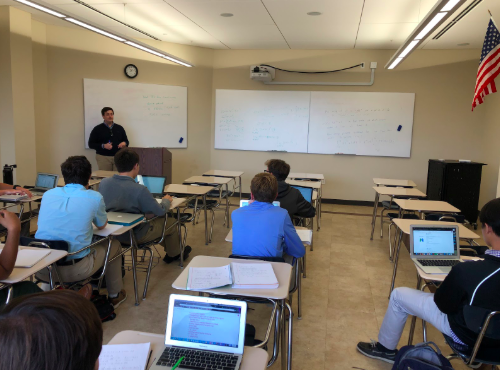 Hang on for a minute...we're trying to find some more stories you might like.
Mr. Schultz leads one of OP's most prestigious math courses: AP Calculus BC. Undoubtedly, it is a challenging course. Students have to use their knowledge of their previous calculus courses and apply it to even more challenging problems, topics, and concepts. 
For those who don't know, the Advanced Placement Calculus course at OP is divided into two sections: AB and BC. AP Calc BC covers more topics than AB and thus is more challenging. BC students have to master AB and BC concepts to do well on the exam. However, BC students receive two separate scores after their exam. They receive one score for BC and another for AB; they receive two scores for one test, an added bonus for a challenging course.
Mr. Schultz leads a very challenging class. He pushes all of his students to think hard and apply concepts to challenging calculus problems. He also does great work to prepare his students for the AP exam through many Free Response Question tests and Multiple Choice quizzes, just like they appear on the AP exam. Through the challenge of the course, however, one always needs to take a load off. During class, you can always expect Andrew Gsell or Sudyut Sinha, two exceptional students, to crack a joke or two. Jack Mogen might chime in the banter, and relieve the class after a hard problem. You might even see Andrew Stelmach arrive to class in his floral shirt because "he is always at the beach."
I asked some of my fellow AP Calc BC classmates about their experiences in the class so far:
Aidan Watkins: Unsurprisingly the tests are really a lot of fun.
Jack Hart: Schultz knows legitimately everything to the point that it baffles me. He's chill and he can teach some darn good calc. Also, the black markers always go first.
Michael Finnen: The material is some of the hardest we can learn, but Mr. Schultz always makes me feel like I really know the material and am prepared for tests. Class is fun and a perfect balance between chill and challenging.
Jack Mogen: I want to die.
Mr. Schultz's AP Calc BC class is a very interesting class. It is extraordinarily difficult and provides students with a great platform for the harder math classes they will take in college.