OPXC Runs Wild at Six Flags Invitational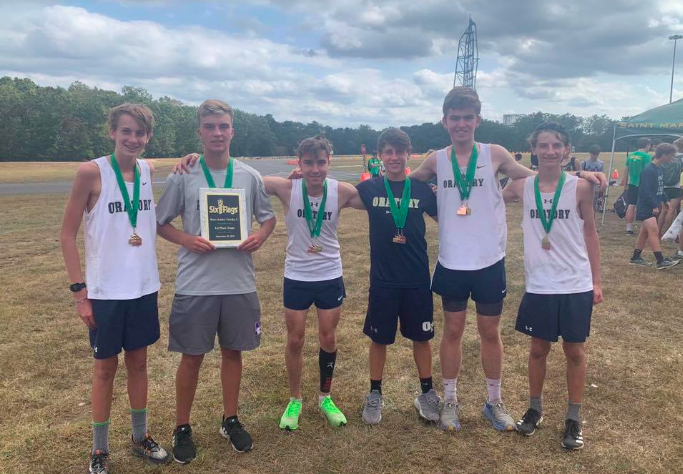 Logan Drone, Staff Writer
October 6, 2019
This past Saturday, OPXC looked to continue its winning ways at the Six Flags Invitational in Jackson, New Jersey. Schools from across the states of New York and New Jersey came down to Jackson to run the course, which takes the runners through the Safari zone for half of the race. The Rams started off the day with the varsity race at 12:19. Led by upperclassmen and 1 underclassman in Ciaran Bowler, the Rams topped off the varsity race coming in 4th place out of 24 schools. Senior Max Russo led the pack for Oratory, running a 16:18, followed by sophomore Ciaran Bowler, then senior Aidan Watkins and junior Will Heffernan, who ran an 18:07, a personal best for the latter. 
A little less than an hour later the JV squad for the Rams lined up looking to do some serious damage on the course. Led by senior Jack Sula with a time of 18:45, the JV squad got the job done, finishing first out of 17 schools with an average time of a 19:22 for the top 7 runners. Freshmen Brandon Franks and Gus Russo finished 5th and 13th respectively, showing the school that the future is bright with the underclassmen performing well at this past race. Sophomore Jake McChesney also showed up, running a 19:36. Let's not forget about the upperclassmen as well, as juniors Logan Drone and Aidan Philbrick ran a 19:32 and 19:59 respectively, with a solid PR (personal record) from Aidan. 
The Rams' next meet is this upcoming Saturday, October 5th at Holmdel Park, where the team runs against schools from all over in the Shore Coaches Invitational. The course that the boys will run is the 5th hardest state course in the country, providing an ultimate challenge for these runners. Come out to support the Rams this Saturday morning as the JV squad runs at 9:25 and the varsity squad looks to get it done at 10:30. Let's keep up the great work boys!!