Rams #GoOff and give all the more reason to #GoPrivate in 3-0 Summit rout.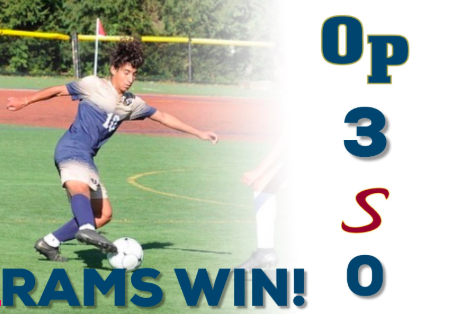 Chris Lowe, Staff Writer
October 4, 2019
Hang on for a minute...we're trying to find some more stories you might like.
What does a rivalry mean to you? Does it mean overcoming 9 years of defeat? Decades of heckling? Pounds of beef? – Well, to me and my other staggering 30+ Rowdies, a rivalry meant it was our time to show up and watch our boys on the pitch take down the Summit Hilltoppers. 
Saturday was a day of festivities, as Oratory Prep Rowdies flocked to the Baine parking lot for a tailgate put on by senior members of the crew. "It was a tremendous sucsess," said Declan McKee '20, "I'm glad we had a great turnout". Pancakes and breakfast sandwiches were getting whipped up by the dozen as preparation for 90 minutes of cheering would be soon underway. Soon enough, the whistle blew at Cavalero field and the much-anticipated match was underway – Oratory immediately got to work. Owen Lines '20 and Jacob Cordero '21 kept the ball in Summit territory as the Rams worked efficiently to earn a clean sheet alongside senior keeper Jack Coyne, who went on to have 6 saves on the day. Baressi's crew was astounding on the offensive spectrum as Summit defenders seemed lost or even dizzy in the efforts of defending them. Marcelo Freire '21 has proven himself to be an artist in and out of the classroom, as he paced his way around Hilltopper defenders off a great ball from Cordeiro to earn the first goal of the day. From beyond the box, Freire delivered a high and tight strike to the top right corner of the goal – the keeper stood no match, Oratory was up 1-0. It's hard to say what might have been going through each Rowdie's mind at that moment, but now we knew, this was no coincidence – the wind was on our side, it was all we needed. But Marcelo's picturesque goal wasn't all that our boys had in the tank. Freire went back to work giving an assist to Senior Captain Nick Jardim, who carved out Summits keeper for a 2-0 lead – the Rams were in the driver's seat. Jardim and his teammates made their way towards the Rowdies who doused them with water and established their dominance – Summit Mothers and Grandparents stood in awe. As half one came to a close, everyone at OP had a reason to be excited, as the game was mentally and physically in our possession. While the team headed to the infamous "far-right" corner for a halftime speech, Rowdies flocked to the local CVS to make some key purchases of baby powder – if we were going to win, it was going to be in style. Halftime came and went as the half two whistle was heard. Fellow Rowdies gathered in the lot and prepared to march back into battle. With the bleacher's chuck full of Summit fans, it was nothing a little school spirit couldn't fix. 5 minutes into the half, the nail in the coffin was hit – Nick Jardim found his way to the net yet again and ripped a short distance goal off a Doug Colandrea '21 assist to gain an incredible 3-0 lead. This was the reason I still 3 days later have no voice, every Rowdy (and Oratorian nonetheless) was on their feet in celebration, this match was in our hands. After the 3rd goal, another brilliant half of defense was put forth again by captain Steven Fudenna and Conor Maenpaa (both '20), who undermined any offensive effort again with Cordeiro and Lines in the backfield. Everyone made an effort, Henderson was quicker than ever – winning 50/50's with anyone willing to challenge him. Madigan also added another threat to OP's offense with kept pressure in Summit territory against some of the quickest players in the county. After what seemed like an eternity, the final whistle blew – baby powder clouded the air and every Ram on-site was ecstatic, the crown had been taken back. As the team ran to the Rowdies to be met with buckets of water and baby powder – I couldn't help but notice how great this moment really was. For once in 9 years, Oratory had taken charge over a Summit team – and they did it in a dominating fashion. It was something out of a movie, something to take pride in and remember for years to come – whether a player or a Rowdy, I am positive that all were proud to be a part of it (except for the Summit Mothers). After this win, I can only say that I and my fellow Rams will be walking around Summit with extra spring in our step. Our boys on the pitch just proved that Summit is OUR home. Everyone should be proud of this win, I know I'm proud, so proud I think I'm willing to start wearing OP gear in Summit Bagel again.