Rams Continue to Dominate: Rowdies Show Tremendous Support in First Round County Win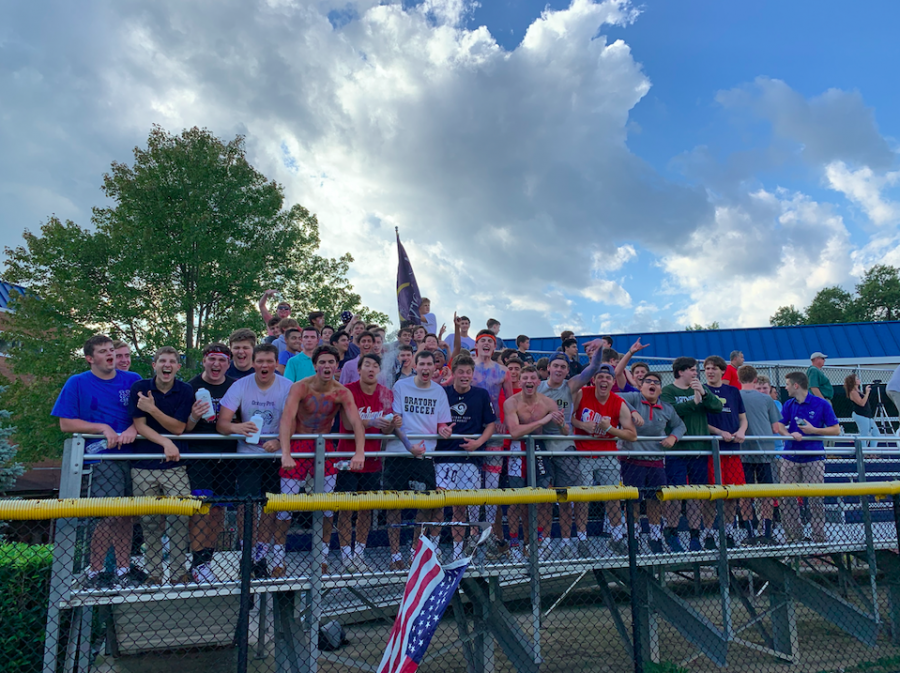 Following a huge upset against cross-town rival Summit last weekend, Oratory's soccer team returned to Cavelero field on Wednesday afternoon with high hopes. A huge turnout of rowdies showed up as well, dripped in red, white, and blue. A USA and "OP" flag waved in the bleachers as students cheered on their classmates. Following an extremely fun and exciting atmosphere against a team as strong as Summit, rowdies expected nothing less against Johnson that afternoon. Facing a team they had previously played twice, which resulted in one win and one loss, the players knew how to approach the team from Clark in the first game of the county tournament. They did not disappoint, and they executed their plays flawlessly.
Following a slow start to the game, where Johnson held most possession of the ball, Senior Nick Jardim quickly found the back of the net, resulting in a huge celebration from the Rowdies in the bleachers. The huge turnout of students were not disappointed, as Junior Marc Feliu soon scored a screamer towards the top center of the net over the keeper's outstretched hands. The Rams led comfortably 2-0 at the half, and once again, the Rams looked like they would get another win at home.
Dark clouds formed and rain soon started to fall, but that did not stop the team from obliterating their opponent. Throughout the entire game, the defense, led by seniors Owen Lines and Steven Fudenna and junior Jacob Cordeiro, worked alongside senior goalie Jack Coyne to earn a clean sheet. Goal-scoring machine Jardim soon added another one in the second-half to make the score 3-0. That was his seventh of the season. Water, baby powder, and cheers filled the student section for the third and final time of the day. The Rams closed the game out and celebrated with the huge turnout of students.
Jardim finished the day with two goals and Feliu finished with one. Junior Marcelo Friere had two assists and Liam "Hendy" Henderson had one of his own. Coyne had a total of six saves in goal, almost identical to his previous shutout performance on Saturday against the Hilltoppers. The Rams absolutely dominated the team from Clark, and plenty of students were there to support them on. These last couple games have had some of the most fun, energetic environments for students at the school in the past few years. OP spirit seems to be more lively than ever before, and it should not be stopping anytime soon. This win advances the team to the second round of the county tournament, which will be played on Saturday against Union. Students should expect to support the team in many more games for the rest of the season. Go Rams!