OP Soccer Bounces Back, Defeats Archrival New Providence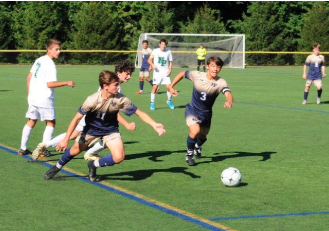 Despite winning their first game 2-1 against ALJ, OP soccer had a rough second week. The team played three matches and went 0 and 3. However, in each game OP still proved to be the more dominant team, as the Rams held longer possession of the ball and registered many more shots than their opponents. It was frustrating to not see the ball fall in the back of the net on several occasions. Everyone was performing very well, but no one could finish and score. 
That all changed against New Providence. Once again, the Rams had complete control of the game and tested the opposing keeper often, but this time, the goals came with it. OP put on the pressure early on when Steven Fudenna opened the scoring in the first half. He banged one in from outside the eighteen with his weaker foot, and the ball knuckled into the top left corner. OP wanted more, and soon enough Andrew Stauffer found himself one on one with New Providence's goalie. Stauffer slotted home the ball with a solid chip and OP went up 2-0. As the game progressed, New Providence left more space in their defensive third and the Rams took advantage. Doug Colandrea squeezed one past the keeper, while also adding an assist just minutes later. He played a lobbed pass to Nick Carnavale, who impressively brought down the ball and took a touch past the defender. Carnavale scored the fourth and final goal in OP's massively important victory. The final score was 4-1, as New Providence was able to score one consolation goal despite not having any other shots on target during the game. 
The goals finally came for OP and the win was very much needed. Hopefully, all the pieces start coming together on a more consistent basis, just as they did against New Providence. The Rams have some big conference games coming up and wins will be required to stay in contention for a future conference title.