Musicians at OP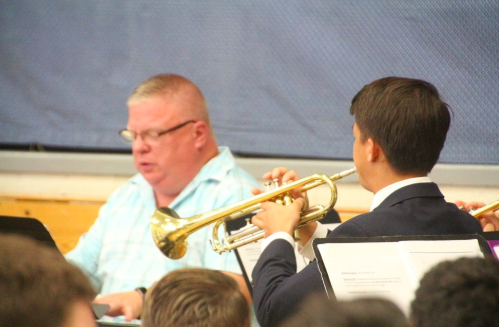 At the Mass of the Holy Spirit at the beginning of the month, the school got a hint of what's to come from Mr. Van Hoven and the music program at the school. Despite a few key losses of the class of 2019, such as the acclaimed Justin Oei, this years' music ministry group stepped up and continued to excel in their musicianship during mass. Senior trumpetists John Celona, Steven Fudenna, James Kim, and sophomore Jack Stickler formed the brass line while senior Jack Coyne played the tenor saxophone. Seniors Cole Noss and Chris McCallister, sophomore Sebastian Bravo, and freshman Colin Reis formed the singing quartet. 
Throughout this year, Mr. Van Hoven and the musicians will continue to show their talents in various ways. The band will have several concerts throughout the year, one in the wintertime and one in the spring. They will practice and rehearse during band classes and after schools on Monday. The Acapella group, composed of students such as Sebastian Gould, Conall Gorman, Sebastian Bravo, Chris McCallister, and James Simon, will return and perform as well during these concerts with the band. Expect to see a few standout guitarists, singers, and piano players during the talent show later this year, as well. Coffeehouse performances will also re-occur throughout the year, providing a relaxed, music-filled evening for students from OP and other local schools in the area.
The school is filled with talented musicians and singers who have been devoted to playing for years. The senior class, especially, has contributed much throughout high school: Jack Coyne has been playing the tenor sax for 9 years and the guitar for 3 years. His favorite memory with the school's band was playing the Super Mario Bros theme song with Steven Fudenna and James Kim at last year's spring concert as part of the Tri-M music honor society induction. John Celona started playing the trumpet when he was in second grade. He always enjoys the yearly Christmas at OP concert when the band plays Christmas tunes in front of the whole school the day before winter break. Steven Fudenna is playing the trumpet for the eighth year now. His favorite memory has been having the opportunity to perform in mass with Justin Oei, who has since graduated.
It seems like 2019 will be yet another great year of music at Oratory. Mr. Van Hoven will be hard at work with the various groups of instrumentalists and singers throughout the year. The seniors will make the most of their final year with the band at school and set an example for underclassmen for their future involvement with music. Students are always welcomed to join a group if they are interested!