Johnny Cash vs. An Ostrich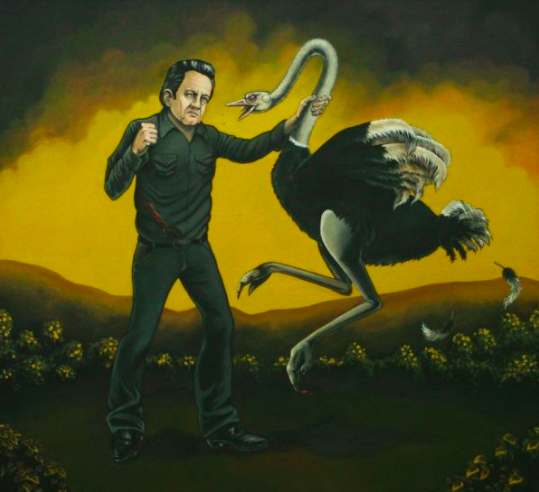 Johnny Cash was one of the most influential American musicians of all time. Weaving his way through Rock and Roll, Country, Blues, Folk, and Gospel music, Cash had a song for everyone and everything. His almost 70 studio albums covered anything from Nine Inch Nails covers to Americana music. He ventured into many different forms of music with an iconic voice and his trusty guitar. However, he was almost killed by one of his many pet ostriches. 
In Tennessee, it is completely legal to own a pet ostrich without the need for a permit. Cash had several. Ostriches are not inherently vicious animals, but if angered, they can be. So how did Cash anger an ostrich, you may be asking? Well, he didn't. 
On his property, Cash had a barn to keep the ostriches in when winter came. Winter that year was brutal, with sub-zero temperatures on a near-daily basis. One of the female ostriches refused to go into the barn to save its life and died. This angered the male who mated with that female, and one day, the Ostrich jumped Cash in the middle of the woods.
Yes, Johnny Cash was attacked by an ostrich. Now how did this happen? So Cash was walking in the woods behind his property as the ostrich stealthily approached him. The ostrich then charged Cash, and Cash took a swing at the bird. Cash missed, and the bird knocked him on the ground. Cash grabs a massive stick and whacked the bird while it began to slice his stomach open. The bird ran off, and Cash was hanging on by, as he put it, his belt, the only thing preventing his guts from being spilled out on the trail at the House of Cash. The resulting damage was five broken ribs, his stomach being ripped open by a bird, and a resurgence of an Opioid addiction Cash had for most of his career.