Is it Time for Danny Dimes?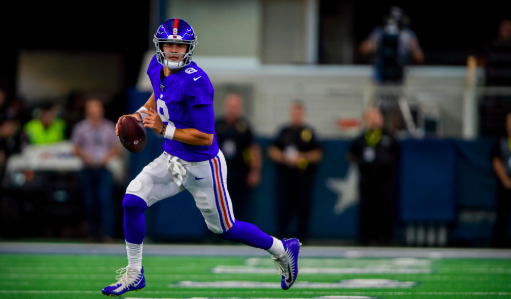 Here we are again. Yet another controversial debate on the rookie play caller from Duke.
Daniel Jones was a beast in the preseason. Granted, most of his playing time was against second-team defenses, but he showed great efficiency nonetheless. On 34 pass attempts, he completed 29 of them for an 85.3% completion percentage. He also threw for 416 yards and 2 TD passes, which equates to a 137.3 QBR, according to Fox Sports.
Daniel looked very poised in the pocket and showed true signs of being a successful quarterback. Especially with the Giants' recent struggles, the possibility of having Jones under center has increased. Veteran quarterback Eli Manning is in his 16th year with Big Blue, so most people think that letting the 38-year-old finish the season would be the "classiest" move. In his time in New York, Manning brought 2 Super Bowl championships and earned Most Valuable Player in both of them.
The Giants may need to look out for the future and examine what they currently have. Drafting Jones as the sixth overall pick was a heavy commitment. Selecting a quarterback that early in the draft shows just how much faith they have in the rookie. There is no way to tell if Jones is a legitimate NFL quarterback without first giving him time to develop as a starter.
Cole's Analysis: If the Giants continue this brutal start through the first ten games with Manning at the helm, I believe they should start Daniel Jones for the remainder of the season. Five or six games is a decent sample size for a rookie quarterback. If Jones only has limited success, the team will have a better idea of who he is as a player. In the 2020 season, it will be Daniel Jones' team. He may be able to make a tremendous difference from the jump. In Week 16, however, the Giants should start Eli to honor his successful career and give him a well-deserved send-off into retirement.
The Alternative: The Giants may be able to take a page out of the Kansas City Chiefs' book. In the 2017 NFL Draft, the Chiefs selected Texas Tech quarterback Patrick Mahomes. The team had incumbent starter Alex Smith, who was in the last year of his contract. The Chiefs had no intention of starting Mahomes in the 2017 season because they wanted to give him time to develop behind the 12-year veteran. This meant that by 2018, Mahomes would take over. That happened to be turn out extraordinarily well, as Mahomes threw for 50 touchdowns, over 5,000 yards, and won the Most Valuable Player award. While Daniel Jones is no Patrick Mahomes, a similar approach could greatly benefit him. Learning from Manning, who is in his 16th campaign and has had significant postseason experience, would be extremely helpful.
I get it. I ripped on Daniel Jones in May and called him the second coming of the Dave Brown disaster. I don't believe I was the only person unhappy with the pick, but now I see potential in his abilities. It will be interesting to see how the Giants use Jones and eventually handle the end of Eli Manning's career.