An Introduction to Your 2019-2020 Omega Editors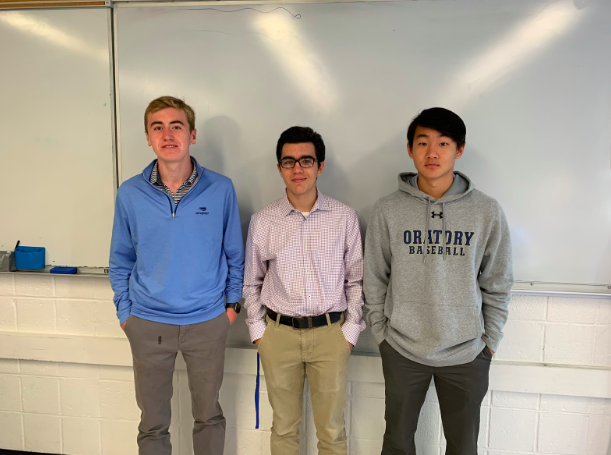 Another year of the Omega begins, and that means another year of articles for all of the school to read. However, I felt it to be very important for my first article of the new year to provide a spotlight on people who work behind the scenes but are vital to making the newspaper what it is. No newspaper would be complete without its editors, and thus this article will detail just who the 2019-2020 editors are, and highlight their very important contributions to the Omega.
Returning this year as editors are the tag team of Luke Bernstein and Daniel Carvalheiro-Santos, who served as the two editors last year. Additionally, this year Mr. McCrystal and Mrs. Gribbin decided to give one more member the title. That member is James Kim.
Luke has been on the Omega for a very long time and is very instrumental in organizing and rallying the writers to come to the meeting every Tuesday, always sending out an email. His contribution to the Omega has been immense. While editors do not often write articles, last year Luke wrote one of the most important articles of the 2018-19 year. Luke wrote an incredibly lengthy article about a phone interview he conducted with soccer referee Mark Geiger. Geiger had refereed in the World Cup and for the MLS, and Luke detailed all of it in his article. What was so special about this article is the reach that it had, going even further than Oratory, and drawing in readers from all over, something almost no other Omega articles have been able to do. To this day, it is one of the most read articles on the Omega. If you are interested in reading it, you can still find it on Luke's staff profile. When he is not writing and editing the Omega, Luke is also a part of the Varsity Swim Team, and the Varsity Tennis team, as well as being one of the heads of the St. Philip Neri Club. We are happy to have such a multi-talented student and leader coming back to be one of the heads yet again.
Daniel is the other half of the Omega's editing duo. While Luke focuses heavily on the members already in the club, Daniel very much tries to reach outside of the club to the rest of the school at large. When I asked him what he expects from this year on the Omega, he told me, "We all have big expectations for this new year". He also invited me to extend an invitation to everyone outside of the club who may have taken an interest in joining. He told me that the new members will always be what rejuvenates the club, and so he tries his best to extend the invitations to all. Daniel very much enjoys writing historical and world news articles, with him writing a very big article in combination with Sebastian Gould about the cathedral of Notre-Dame last year. His writing is something that I always admire, it is very concise and clear. Daniel also is one of the heads of the Model UN Club this year. He is all around a very kind person who you should definitely say hi to if you ever see him in the hallway.
The last, but certainly not least of the staff of the Omega is James. While he is not as high on the hierarchy as Luke or Daniel, where James really shines is his ability to focus on sports. James will be the sports editor this year, only working on those types of articles. Since he started writing for the Omega as a freshman, James' articles have really leaned towards sports, and he has now at this point become one of the most important writers for Oratory sports news, giving baseball, basketball, soccer, hockey, and even cross country updates in their respective seasons. Knowing that this is his focus, Mr. McCrystal and Mrs. Gribbin have especially encouraged him to write about sports and pursue his special affinity for them. When he is not writing, James is also a top tier member of the band, where he plays the trumpet, as well as being on the Varsity Baseball team. If you are looking for sports, he is the guy you should be following!
I hope that this article provided you with an inside look at the people who make the Omega possible. Thank you to Luke, Daniel, James, Mr. McCrystal, Mrs. Gribbin, and all of the writers for your continued hard work, and we are all excited for what is in store for the Omega this year.