2019 OP Field Day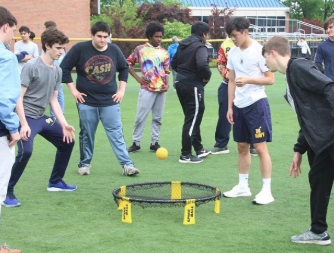 This year, the Thursday prior to Memorial Day weekend was the set date for OP's field day. Although, that morning, field day occurring was in doubt as dark clouds roamed the air, resulting in a heavy downpour and disappointed students. Students were told to report to their first period classes, and a decision would be made later in the day if they were to be let out or not. As first period finished, the sky cleared up and the entire school was called out onto the turf field and into the gyms.
Few would argue that field day isn't the most fun day Oratory has to offer for its students. Student Council sets up various activities across OP's campus. Out on the turf, spike ball, soccer, KanJam, handball, and football are available and teams are created amongst the students participating. Inside the Bain gym, dozens of basketballs are put out where its a free for all and most just shoot around for fun. Others make teams and play small-sided games, and a lot of the time there's a few games running at once since there are numerous hoops for the students to work with. Additionally, the fitness center is open all day and students are able to lift if they want to get a good workout in. Finally, everyone has access to the art room if they rather take part in crafts than sports.
Due to the gloomy weather, many thought there was little chance of this year's field day actually taking place, however, Oratory continued to go through with what was originally planned. In the end, all the students had a great time playing sports that they enjoy with their friends.