2019 Student Council Elections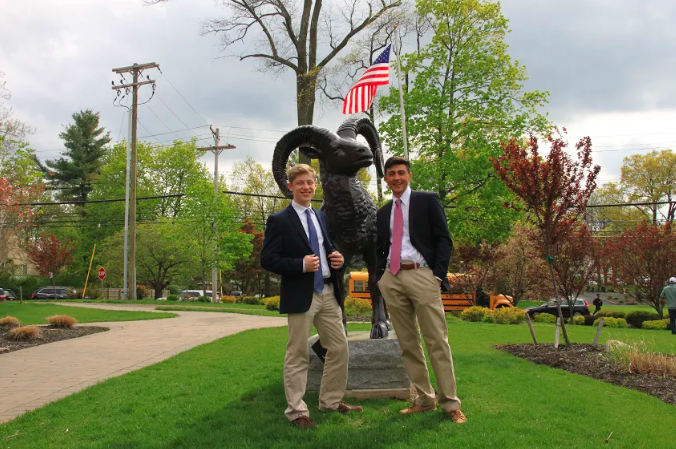 This year's Student Council elections were described as some of the toughest yet. With 3 President/Vice-President candidates, 4 12th grade Reps., 6 11th grade CEO's, 4 10th grade CEO's and perhaps the toughest of them all, 1 Middle School CEO candidate. Everyone within these candidates did an excellent job campaigning through the primary tactic of spamming so many posters that you can no longer see the walls. As highly contended as the strategy is, it did end up winning Alex Felitto and Peter Ainsworth the presidential seats as their business cards were ubiquitous.
Here are the victors (formatting courtesy of Mrs. Martin) :
President/VP: Alex Felitto & Peter Ainsworth
12th Grade Reps: Conor Maenpaa & Cole Noss
11th Grade CEO: Will Heffernan
11th Grade Reps: Liam Henderson & Aidan Philbrick
10th Grade CEO: Jack Calandriello
10th Grade Reps: Matt Clark & Calvin Ruberti
Middle School CEO: Patrick Conniff
One big theme this year was "Rams Run Together" and school spirit. During the campaign, many people had ideas on how to revamp school spirit into something new and more exciting for OP students. Whether it be Peter's idea of bubble ball, Connor's for T-Shirts, or reinstating the rewards program that had been set up two years prior, there are many new ideas on how to best drive the school in spirit.
Of course, all this spirit drives from the student council itself and especially its new leaders Alex, Peter, and all the CEO's. Throughout this upcoming year, they will be leading the charge, running with all their follow Rams, in order make next year the year of the Ram.
P.S. I've also heard about the possibility of including the Ram statue to boost school spirit, but that's just a rumor.