Prom 2019 Recap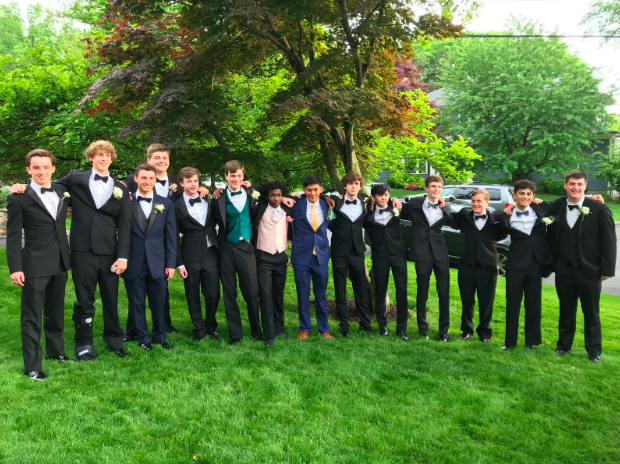 The Oratory Prep prom, which took place on Thursday, May 23rd, was a huge success. For the juniors who attended, it was perhaps their first or second experience with prom, and for returning seniors, it was likely the last prom that they would ever attend. Everyone, faculty and students alike, went all out and made sure that the event was a day that no one will forget any time soon.
The event took place at Mayfair Farms in West Orange, a very prominent and well-known venue for weddings and proms. Everyone attending went home after field day and prepared themselves. Some may have attended pre-parties beforehand to take pictures and socialize, but everyone arrived at the venue between 7:30 and 8. Students were greeted by all of the school higher-ups, such as Mr. Costello, Mr. McGowan, Mr. Klarmann, and Fr. Sal. This event was so huge, even Mrs. Gribbin was in attendance. As they entered, students were sent to tables where they found a cookie with their names and those of their date on it, which also detailed their designated table number for the night. After that, the party started.
For the first half hour or so, everyone was grouped in the main entrance hall, where small foods and other drinks were being served by the kind workers. Everyone went around greeting each other and socializing with the girls, which is not something that Oratory students get to do often. After some time there, the main room was opened up, and everyone flooded inside. Each went to their own table and sat, as Fr. Sal said a prayer over the event. After that, the rest of the night was a blur, full of dancing, mosh pits, pictures, music, and just pure fun. Even though no one knew how to dance, everyone whipped out their best moves and jumped like crazy. At some point, everyone grouped back at their tables to eat dinner, but then promptly went back to dancing. The venue also had a photo booth, which students could use to take and print pictures if they wished. By the time it was all over at about 11, everyone had danced their hearts out, and all left. Some may have gone to after parties, others may have gone home, but everyone was certainly glad that there was no school on the next day.
As a person who attended the event and on behalf of everyone who went, I would like to offer my thanks to everyone involved, such as Mrs. Martin, who coordinated the prom, as well as the DJ and all of the workers at Mayfair Farms, for they truly did a great job of making the night truly enjoyable. I cannot wait to see what next year's prom has in store.