Model UN Goes to the UN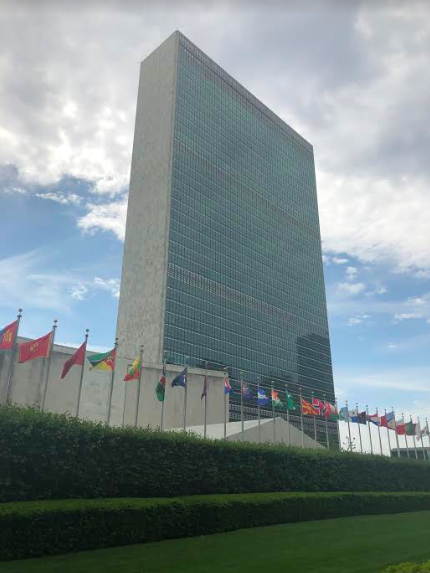 On Friday, May 17th, after much careful planning from faculty advisors Mr. Kearns and Mrs. Otterbein and club founder and president Justin Oei, Oratory Prep's Model UN club visited the United Nations in New York City. The club departed shortly after the beginning of CWP. After arriving in Manhattan, the bus's horn broke, causing a constant beeping sound to emanate from the OP bus until bus driver and engineer extraordinaire Ruddy could fix the problem. In the words of Mr. Kearns, "Oratory always makes a grand entrance." After finally arriving at the UN complex and gazing in wonder at the surrounding embassies and many flags, the club headed inside. The passage through tight, airport level security went smoothly, except for when your very own Nick Looney dropped his AirPods, sending them flying across the room and creating a fiasco. Model UN entered an inner courtyard and observed many statues that had been gifted by various member states of the UN, such as a Russian statue of a king slaying a dragon, a Luxembourgian anti-war statue, and a memorial to the victims of the Atlantic slave trade.
Eventually, the tour of the facility began. The first stop was the famous Security Council's chamber. At their semi-circle shaped desk, representatives from all regions of the world decide how to handle global affairs. Next was the now-defunct committee that served to end decolonization. The chamber dedicated to development, however, was in session, and access was limited. The route also passed through an exhibit, showing the destruction of war, with an especially troublesome exhibit including a statue, melted and deformed by the nuclear fire at Nagasaki. The tour was capped off with a view of the General Assembly room. The tour guide gave us some inside stories on delegates and reminded the group that General Assembly meetings are available on the internet. Global politics will take an increasingly important role in the future, and the members of Model UN are ready for the challenge.