Oratory Prep vs DePaul Catholic Lacrosse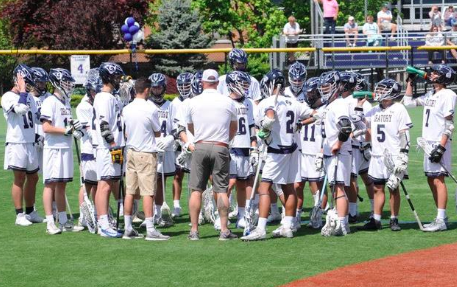 Hang on for a minute...we're trying to find some more stories you might like.
Saturday marked the start of Oratory Prep Lacrosse's journey into the Non-Public B State tournament. Their first matchup was against 10th seeded DePaul Catholic, a very winnable game in Coach Roy's eyes. Given that it as also Oratory's Senior night and a home state game, this game was very well attended by Oratory's fans. The first goal was scored by Oratory and created the beginning of a six-goal run by Oratory. Going into the second half, Oratory had a six-goal lead, with the score being 6 – 0. At the end of the game, the final score was 10 – 2. Matt Garibaldi scored 6 times, Dillan McMahon, Andrea Fiorenza, Luke Jacobello, and Matt Terraciano all scored once. Ryan Kenny also provided to the offense with 4 assists. Oratory is scheduled to play Montclair Kimberley Academy at their home field in the next state tournament matchup.