Buckethead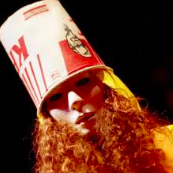 Hang on for a minute...we're trying to find some more stories you might like.
Brian Patrick Caroll, known as "Buckethead" for wearing a plain white bucket, a KFC bucket, or a KFC bucket with lettering saying "funeral" on it, was born on May 13th, 1969 in Huntington Beach, California. Although it is not fully disclosed, Buckethead seems to suffer from some sort of Aspergers, not quite autism. This is seen in videos that were taken of him as a teenager, showing his severe lack of social skills, and the fact about just how passionate he is about music (like crazy passionate – found later in the article). Buckethead released his first album entitled Bucketheadland on February 5th, 1992 with Japenese record label Avant. It is unknown as to why he decided to release this album through this record label. Buckethead released 35 full-length albums from 1992 to 2012 (in just twenty years), and almost all of them were absolute masterpieces, and if they weren't, they were still absolutely amazing. 
His passion for music did not fade after twenty years, in fact, it got more intense. Starting in 2011, Buckethead released his pike series, pike #1 being It's Alive. This next number is going to amaze anyone no matter how much they care about music. Stated before, Buckethead may have Aspergers due to his restrictive and repetitive patterns of behavior and interests. Since that first pike released on May 15th, 2011, Buckethead has recorded and released 274 pikes since 2011, all that clock in from roughly around the 30-minute mark, give or take a few minutes. His latest pike, Dreamthread, was released on August 4th, 2018, and you may ask, why hasn't Buckethead released anything in months?
Buckethead came out not too long ago to disclose to his fans that he is suffering some sort of very rare heart condition that could essentially kill him at any point, but he just needs to take it easy. Personally, I think it has something to do with the fact that Buckethead might have something with Marfan's Syndrome. Buckethead is 6'6", and a pretty skinny dude. But what is clear, is that his fingers are abnormally long. Like weirdly long. It makes Buckethead one heck of a guitarist, and that he is, but there's a lot wrong with the man. That's why Buckethead holds a special place in my heart, and along with Jeff Hanneman (R.I.P) of Slayer, they are the driving factors of why I even considered picking up a guitar. I hope Buckethead can get past this bump in his life and release new music (as if I already haven't heard enough Buckethead), and I will dress up as him again for next Halloween! Stay metal \m/