Injuries: The Story of the 2019 New York Yankees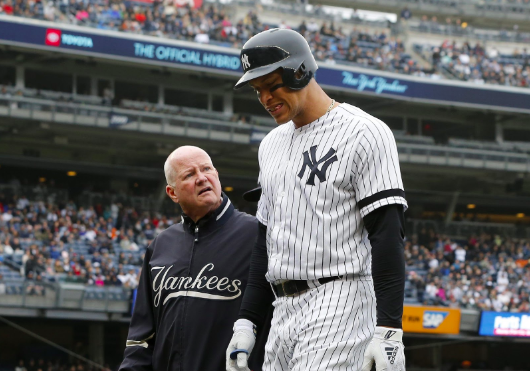 Miguel Andujar, Dellin Betances, Greg Bird, Jacoby Ellsbury, Clint Frazier, DiDi Gregorius, Ben Heller, Aaron Hicks, Aaron Judge, Aaron Hicks, Jordan Montgomery, Luis Severino, Giancarlo Stanton, Troy Tulowitzki.
Sorry about that.  I just had to list the 14 players on the New York Yankees disabled list… I mean injured list (sorry if that offended you).  
As I diehard Yankee fan, I have never seen a team with this many injuries at the same time.  It is hard to watch. Every day I expect to see a new MLB At-Bat alert on my phone telling me someone sprained their leg.  This team has gone through so much, so early. Of the Opening Day starting lineup, 5 out of the 9 hitters are on the IL currently.  The Yankees just got Gary Sanchez back who was just injured. The Yankees have battled. The thought of this "swiss cheese" team going 17-11 is mind-boggling.  A player like Giovanny Urshela has stepped in and done work. In 57 ABs, he is hitting .351 with one home run and 6 RBIs. He has added stellar defense along with that.
Wait, HOLD ON!
"Gio Ushela has been hit on the hand and will go for MRIs"
Welp… that ended quickly.
Enough is enough.  Besides all of this silly business, the Yankees won 10 of their last 12 on a West Coast trip.  In all of my years of being a Yankee fan, they always struggle in the west, but they sure haven't this year.  Luke Voit even won AL Player of the Week. He has slugged 4 homers with a .433 batting average and 10 RBIs in the last 7 games.  He has been the offensive spark plug. Gleyber Torres looks to have shaken out of his early-season slump. One thing that has really stood out to me has been the pitching.  When I say pitching, I mean Domingo German. This year, German has gone 5-1, with a 2.56 ERA with 32 Ks in 31.2 innings pitched. He has been stellar, leading the American League in a lot of pitching categories.  James Paxton and Masahiro Tanaka have also been very good during this stretch.
There is good news for the Yankees.  Tonight, Miguel Andujar played in a rehab game in Tampa along with Troy Tulowitzki.  Andujar is one of the Yankees most important players. He can really swing it. Giancarlo Stanton had a bit of a setback, but he should be back soon enough.  Aaron Judge is a pretty big concern for me. He strained his left oblique. Obliques are very tricky because they can linger even when healed. I really hope that he can get back into full force because he was starting to pick it up.  Luis Severino threw a bullpen over a week ago and did not feel like he should during his recovery process. Without Severino, the Yankees are a completely different rotation. They need him to come back and pitch like the man we saw last year at the start of the season.
I personally think based on the way that the Yankees have been playing, they will be in the right spot when their big players come back.  Especially with the struggles in Boston, the Yankees will hold an adequate win-loss record. I still believe they are contenders for the World Series but they need their All-Stars back ASAP.