Exclusive Interview with Golf Captain Sean Vowells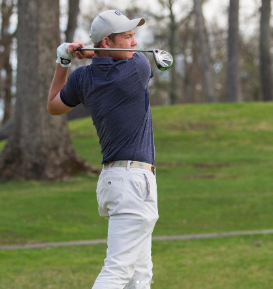 During this Spring season, the OP golf team has been transformed once again by taking on many new students but still keeping many of the old legends who are currently leading the team. One of these people is senior Sean Vowells, current Captain of the Varsity team. As a four year member of the team, Sean knows all the ins and outs and has witnessed the changes in the group from his freshman year all the way to his senior year now. In the interview below, he answered some questions about the team in past years, this year, and what he thinks will happen in future seasons.
Joe: For those who don't know, how has the team and its players performed in previous years?
Sean: The team has been very solid over the past few years. For my first three years here, we were consistently in the top 5 teams in NJ. We won Non-Public B (2016), Union County (2016), Prep A (2017), Prep A (2018), and Union County Conference (2019).
Joe: How was the chemistry of the team in previous years?
Sean: The team chemistry has been very good over the past few years. Everyone wants to be out there and we enjoy ourselves. We even play together just on our own.
Joe: What do you think of the chemistry of the team this year, especially with new coach Mr. Gaertner?
Sean: Mr. Gaertner as an assistant coach has definitely gotten the team excited for this season.
Joe: What do you think of having a second coach, Mr. Gaertner, along with Mr. McGowan?
Sean: For my first two years, Mr. Plagge was the assistant coach. He came to all of our matches and some of our tournaments while driving the bus most of those times. (Similar to Mr.  Gaertner now) I think most of all it makes things easier on Mr. McGowan, whose less important job gets in the way sometimes of being the golf coach.
Joe: In the past, who have been some of the strongest players on the team?
Sean: In my time on the golf team there have been many terrific members. I played with John Felitto for one year, Mike Koomar for two years, Justin Susarchick for three years, and Aidan Devlin for two years. These four guys have been some of the best players in OP Golf history.
Jacob: How does this year's team compare to the team in previous years in terms of skill?
Sean: I think the golf team is pretty similar skill wise to previous years. We are very top heavy this year which is new, but we should be expecting the same results as usual for this year.
Jacob: Where do you see the team in the next couple of seasons?
Sean: I'm not sure what the team is going to do in the future because so many of the kids are upperclassmen.
Jacob: How has your experience been with OP golf?
Sean: My experience with OP Golf has been great. Coming from a school that really can't compete with the "blue-bloods" of high school sports. It's really cool to be one of the best teams in the state.
Jacob: Has your experience been different this year as Captain? If so, how?
Sean: As captain, I have done many things that other captains have done but I've also done a few things of my own. I create notes for each golf course that we play on to do research strategy-wise. Connor, Aron, and I went on a spring break trip. The next captain should focus on getting the whole team on a spring break trip.
Jacob: Overall, what do you think of the season thus far, and what do you believe will happen for your last golf season here at Oratory?
Sean: This season so far we are 6-1. With a home loss to Westfield on opening day. So far in tournaments, we have finished 4th at the Blue Devil Invitational and 1st in the Union County Conference Championship. We are pleased so far, but there is a long way to go before we call it a great season. I'm hoping to win Counties and qualify for TOC for my 4th straight year.