3K Ks: CC's Milestone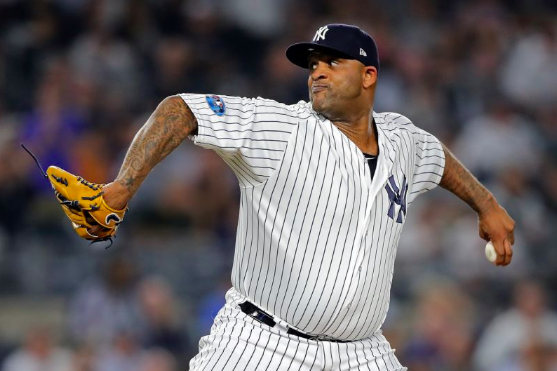 3,000 strikeouts.  3,000 punchouts. 3,000 K's.  Whatever you want to call it, CC Sabathia has now entered a historic bunch.  With his start against the Arizona Diamondbacks, CC has reached that milestone.  There has been a lot of question whether or not CC should be a Hall of Famer. I do believe he should be inducted for these few reasons.
16 Major Leaguers have reached the 3,000 strikeout milestone.  All are in Cooperstown with the exception of two. They are Roger Clemens who was busted for PEDs and Curt Schilling who is on the cusp of The Hall.  Sabathia is in his 19th year. CC is one of three left-handed pitchers to reach 3,000 punchouts. The two other lefties are pretty big names. Steve Carlton and Randy Johnson. CC won a Cy Young in 2007 for the Cleveland Indians.  That year, he went 19-7 with a 3.21 ERA. Pretty solid year from the big southpaw. Sabathia has also gone to 6 All-Star games and had a magical 2009 postseason. In the ALCS against the Los Angeles Angels, CC posted a 1.13 ERA, with only 9 hits in 16 innings compiling 12 strikeouts.  He won ALCS MVP which led the Yankees to another pennant. He helped them win their 27th World Series Championship in '09 against the Philadelphia Phillies.
One pitcher I compare CC Sabathia to is Mike Mussina.  "Moose" was never a DOMINANT pitcher as he never won a Cy Young.  CC and Mussina's ERA is one singular point away from each other. Mussina compiled more wins, but CC has more strikeouts (by 200+) in fewer innings pitched.  Mike Mussina was just recently inducted into the Baseball Hall of Fame. While Mussina had limited postseason success, Sabathia has been at his best in the biggest moments.  In 2008, he pitched on THREE days of rest after he was traded, carrying the Milwaukee Brewers to the playoffs. In 130.2 innings, he had a 1.65 ERA going 11-2 with 7 COMPLETE GAMES.  This run with the Brew Crew was truly amazing and showed proof of a Hall of Fame pitcher. Based on Mussina's induction and CC's production, I firmly believe Carsten Charles Sabathia will have a plaque in Cooperstown when things are all said and done.