An Interview with Spring Track Coach Mr. Seebode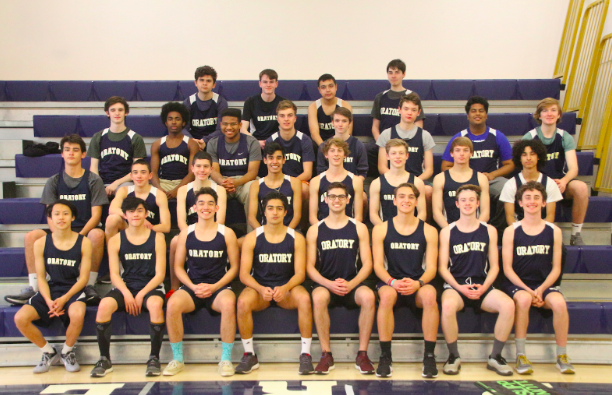 Logan Drone, Staff Writer
May 6, 2019
Many people know about the success of Oratory spring sports, such as Lacrosse and Baseball. OP's spring track team often gets overshadowed by these sports, however, the team has been leaving its mark in its few meets this season. Led by upperclassmen, the team has been exceeding many expectations, with counties and conference meets just around the corner. Over the past weekend, I took the time to interview first-year track coach Mr. Seebode about the team, and about his love for the sport of track and field.
Regarding yourself, has running always been a passion for you?
No, to be honest running was not an instant passion for me but something that I grew to love as I got older. I did not start running until high school and at first, found it to be very challenging. Between my Freshman and Sophomore year of high school, I trained really hard and got into shape and began to enjoy running! I've been hooked since. I always encourage athletes to give running a chance because once you get into shape and get into the sport, it is a completely different experience!
How many years have you spent running competitively?
About ten. I ran both in high school & college and then have continued to train afterward.
What events did you specialize in and what was your PR (personal record) in those events?
In high school, I ran the 1600 (mile) and 3200 (2-mile). My PRs were 4:43 and 10:18 in these events from high school. In college, I mostly ran the 8K and then the 5k on the track. My PR was 26:43 in the 8K and 16:03 in the 5k.
How has your first year of coaching Spring Track at OP been?
It has been great! I have really enjoyed working with all of the athletes and watching their growth throughout the season. I have also enjoyed getting to know the athletes better and learning more about the Oratory Prep culture from the upperclassmen.  
What runner has been a huge surprise for you this year?
There have been a few big surprises this year. On the distance side, I have been really impressed with Freshman Ciaran Bowler, whose hard work ethic and drive have really stood out! Junior Maximus Russo also is a standout runner on the distance side- he will be opening up his first races for OP this May. On the sprint side, Sophomore Sam Demarinis and Junior John Annunziata both had big stand out races at the start of the season that set them apart! They have continued with great times throughout the season. Also, the returning members of the team have been great leaders throughout the season. Our team leaders and top scorers have included Joe Nassoura, Fernando Aviles, Eric Rhines, Ty Cross, Kyle Hue, Alex Rickard, Nicholas Villa, and Chris Kraemer.
On the other hand, what thrower has been a huge surprise for you this year?
The throwers have had a lot of success this season. Junior Anthony Coraggio, Junior Ty Cross, Senior Chris Uustal, and Sophomores Andrew Moran and Charlie Anderson have all been big point scorers throughout the season. Coach Vaughn has done a great job leading this group throughout the season.
What goals have you accomplished this year?
One of our goals at the start of the season was to have each athlete improve on their individual times and to medal at some of the larger invitationals. So far, we have had a lot of great PRs (personal records) this season by almost all athletes. We also have had some success at the invitational meets- the following relays have all been awarded a medal throughout the season: Javelin relay (Anthony Coraggio, Ty Cross, & Andrew Moran), Long Jump Relay (Ty Cross & Kyle Hue), the Discus Relay (Anthony Coraggio, Charlie Anderson, & Chris Uustal), and the Sprint Medley Relay (Joe Nassoura, Sam Demarinis, Ty Cross, & Fernando Aviles).
Are there any other goals that you would like to achieve this season?
Our end of season goals are to improve our team scores at the Conference and County Championships. Last year the team finished 4th at the Conference meet.
I would like to thank Mr. Seebode for his time to answer these questions about the team, and I would like to wish the best of luck to the track team as they roll into their conference championship events this upcoming week!