OP Tennis Excels at the Union County Tournament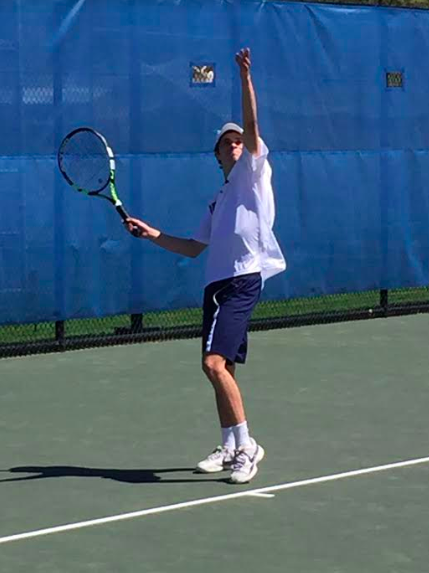 At the end of April, every boy's tennis team in Union County descends on the Donald Van Blake Tennis Center in Plainfield, NJ for the Union County Tournament. Each player at the tournament was guaranteed at least two matches over the two days event, with those who won in the first round were guaranteed four matches. All five flights of OP Varsity Tennis were very successful during their time in Plainfield.
On day one, First Singles Drew St. Amant, an eight seed, easily dispensed with his first round opponent before running into the brick wall of #1 seed Matt Bartok of Westfield in the Quarterfinal round. Bartok would eventually go on to finish second overall in his flight, losing in an almost three-hour match to #2 seed Alex MacDonald of Summit. A seven seed, Second Singles Nick Carnevale also had no trouble with his first round opponent before meeting his demise to #2 seed Matthew Su of Westfield in his Quarterfinal matchup. Su would also go on to finish second in the flight, losing another grueling match to #1 seed Brendan MacDonald of Summit in a three-set marathon.  A six seed, Third Singles Will Moran continued the string of winning the first round before meeting an extraordinarily tough opponent in #3 seed Raymond Li in his second round. Li would go on the eventual third singles runner-up of Peter Cornforth from Summit.
Both Oratory doubles team also followed the same pattern on day one. The First Doubles Team of Arnav Chahal and Luke Bernstein played the only three-set match of the first round after dropping a second set tiebreak to Union before dispensing with them in the third set. Following this electric victory, First Doubles lost a close match to the #3 seed of New Providence who would eventually come in fourth overall. The Second Doubles team of Mark Werner and Casey McKee had a much easier time with their first-round opponent before meeting the #1 seed of Brian Kaelin and Michael Polivka from Summit in the Quarterfinal. This match was not as successful for Werner and McKee as Kaelin and Polivka would eventually finish as the runner-up in the Second Doubles flight.
Due to their first-round wins, every member of the Varsity Team came back for day two of the Union County Tournament. As all of the flights lost in the quarterfinal, Oratory Prep Tennis was relegated to the fifth place through eight place bracket, as everyone's seed suggested. First up was Drew St. Amant, who lost quickly to the #4 seed David Schwartzman of Governor Livingston before losing again to the #7 seed Miller Schulman of Cranford for a disappointing final day at the event. However, Drew met his seeding, coming in eight overall as predicted. Regarding his experience at Counties over the past three years, Drew said "It was fun to go out and play with the team and be able to compete against some good opponents. We gave it our all and I'm gonna miss being able to play competitive tennis all day." Nick Carnevale also faced a difficult opponent in his third match of the tournament, losing to the #6 seed Kyle Cheung of Plainfield who played very well in the tournament. Carnevale was able to end the tournament on a good note with an easy win over Dayton's Matt Mlawski allowing him to match his #7 seed. Unfortunately, Will Moran had a tough match against Cranford's James Ganley sending him to the 7th place match. Moran won the first set 6-0, before losing a tight second set and a difficult 10 point super tiebreaker.  Moran did go home happy with an easy win in his fourth match of the tournament, earning him seventh place overall.
The Doubles teams were also successful on their second day in Plainfield. The formidable first double duo of Bernstein and Chahal easily dispensed with Jeremy Slivinski and Ian Bauman from Cranford in straight sets. After this momentum boost, first doubles defeated the #4 seed of Benjamin Weitz and Cleary in a very tight match. This win made First Doubles the only flight for OP to beat their seeding as they finished fifth overall in the flight. After achieving seventh place, Third Doubles star Will Moran came over to watch the First Doubles Match and was instrumental in their success. Following the win, Moran believes, "it was a breathtaking experience to watch Bernstein and Arnav pull off a big win against the dominating GL." The Second Doubles team of McKee and Werner were also successful on day two. Following a tough loss in the morning, the Senior tandem fought back and beat Cranford to achieve the seventh place crown following a defeat to Ryan Brown and James Ganley in the dual match.
After two days of fierce competition, the results were finally tallied for the Union County Tennis Tournament. The top six places were Westfield, Summit, New Providence, Scotch Plains, Governor Livingston, and Oratory. Obviously, this means that Oratory came in sixth overall out of the 15 schools at the tournament, a very impressive finish. Coming up next for OP Tennis are five matches in five days followed by the Non-Public B State Tournament.