Nostalgia for the New York Giants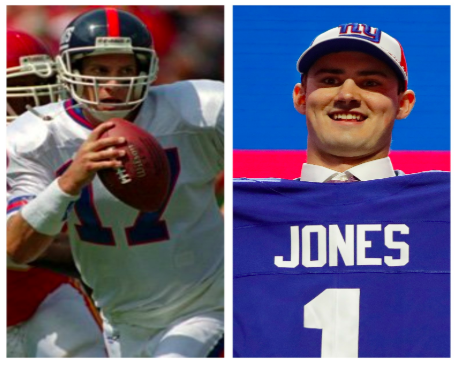 It's 1992.  The New York Giants are coming off an 8-8 season, not making the playoffs.  Phil Simms is entering his age 37 campaign, Jeff Hostetler had a rough season, and Big Blue was on the search for a new field general.  They made their decision through the supplemental draft. To make this selection, the Giants would lose their first-round draft pick in the '92 NFL Draft.
And with the first pick in the 1992 Supplemental Draft, the New York Giants select 6 foot 5 quarterback from Duke, Dave Brown.  This was an interesting pick for the Giants. They believed they had found a diamond in the rough. Brown in his junior season at Duke, threw for 2,794 yards, 20 touchdowns, and 15 interceptions (114.6 QBR).  This was just a decent season for a "successful" college quarterback. Big Blue believed that Brown could sit behind Hostetler and the aging Phil Simms and become the Giants future QB.
In the '92 season, Hostetler started 9 games, Simms started in 4, and some guy named Kent Graham started 3.  That year Brown only made 7 passing attempts. This was expected as that was Brown's intended role. In '93, Brown only appeared in one game but made his playoff debut in garbage time.  He completed 6 of his 10 passes for 56 yards with one interception during Big Blue's awful 44-3 loss in the Divisional Round game against the San Francisco 49ers. After that loss, Phil Simms retired.  The '94 season was all set up for the Duke quarterback who was drafted two years earlier.
Brown led New York to a 9-7 record, but that was mostly carried by the defense.  En route to missing the playoffs, Brown had a mediocre year. He threw for 2536 yards with 12 touchdowns and 16 interceptions (72.5 QBR).  This was not an exciting time to be a New York Football Giants fan. You could not love this Dave Brown kid considering you blew a first rounder on him.  Brown played 3 more years for New York, racking up 6249 passing yards with 28 touchdowns and 33 interceptions. He then went onto Arizona, and that was that.
Let's cut to the chase.  In this year's 2019 NFL Draft, the Giants selected yet another Duke quarterback, Daniel Jones.  The whole Giants' fanbase blew up. Almost everyone is upset about this pick. Josh Allen, Kentucky defensive end, was there when the Giants picked.  He won the SEC Defensive Player of the Year, compiling 17 sacks in his senior season. This looked to be the perfect pick for the Giants as they so desperately need an edge rusher.  Nope. They wanted the kid who looked like a "deer in the headlights". Not Big 10 Offensive Player of the Year, Ohio State quarterback, Dwayne Haskins who threw for 4831 yards, 50 touchdowns, and only 8 picks.  Haskins threw for 2157 more yards than Jones, with 28 more touchdowns and one less interception. Haskins even fell to PICK 15 to the division RIVAL, WASHINGTON REDSKINS! After the Giants selected Jones, Haskins SNICKERED, shaking his head. The Giants' next pick, after their sixth overall, was seventeen.  New York could have selected Josh Allen, and if they so desperately wanted Jones, they would have had him at #17, or maybe in the whole NEXT round.
In my opinion, Daniel Jones will have the same impact that Dave Brown did.  He will hold the clipboard through his whole first season behind Eli Manning.  He will not turn into the superstar that Dwayne Haskins could have been. This time, Dave Gettleman and the Giants really messed up.  Watch out for Redskins matchups over the next 10 years as Haskins will be kicking the Giants' backside.