Mr. Costello Looks Back on His 10 Years at OP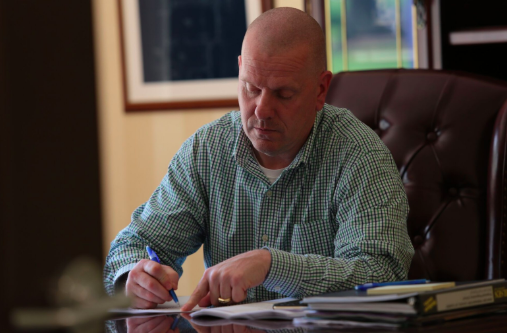 Mr. Costello, our beloved Head of School, recently hit a major milestone in his career: 10 years at OP. With all of this time, he has brought Oratory to a great standing within the community and learned many lessons along the way. Mr. Costello hopes to guide Oratory into an even brighter future over the next decade. In a recent interview, Mr. Costello and I discussed his past 10 years, and the next 10 years to come.
When asked why he decided to become the Head of School 10 long years ago, Mr. Costello explains that when he started at OP, the school had strong academic prowess, but lacked sufficient marketing and enrollment. Mr. Costello believed that such facets, important to the success of an academic institution, could be helped with his leadership. Upon taking the job, Mr. Costello made it clear that he wanted to focus on marketing the school and building enrollment while another person led the academics of the school. This person would become Mr. McGowan, who is still with us today.
Mr. Costello explains that his highlight of the past 10 years is simply seeing the growth of the school's prominence increase. In addition, the turf field is another great accomplishment, a sign of the turning of the tide for OP's future. Everyone appreciated that new turf, as the previous field had been quite dreadful. Having completed this milestone within the first year of his leadership, the installment of the new turf field made him feel very good. Of course, the construction of our newest building, DeGaeta Hall, is another event in which Mr. Costello takes great pride. He particularly enjoys the pride students take in such projects.
Over the past 10 years, Mr. Costello has changed as a person as well. He explains that he now has been able to let loose the reins on projects at OP due to the qualified and driven faculty and staff at OP. He also appreciates how he is now able to enter the classroom once every two days with the freshman. When he first entered, Oratory required many behind-the-scenes projects to ensure growth in enrollment. However, Mr. Costello can now enjoy the fruits of such projects by entering the classroom, all the while pushing Oratory ahead towards a bright future.
In the next 10 years, Mr. Costello believes that competition and affordability will remain two tough challenges Oratory will continue to face. In order for the school to continue to succeed, the product that is Oratory Prep must continue to grow and give OP men new opportunities. However, the school must remain affordable to retain enrollment. The delicate balance between these two aspects will remain a challenge, but it will be a challenge that will be attacked head-on. A large endowment is one way Mr. Costello hopes to achieve this.  A large endowment will ensure the school runs properly, even if enrollment dips or a crisis occurs.
Mr. Costello's biggest goal for the next 10 years is to put Oratory in a position in which it is the undisputed preferred choice for Catholic education within the area. The new building is excellent, but he would like to support the activities within the school that students can take advantage of to better their futures. Every day, Mr. Costello aims to find places where Oratory's activities can be made even better. However, his highest goal is to make sure that Oratory Prep is a place where students are happy, and that there exists harmony between the students and the administration.
In all, Mr. Costello's presence at Oratory has made it a better place to be a student and a faculty or staff member over the past 10 years. Many exciting projects have been completed, and there are many more additions and improvements to be made. We are glad to have Mr. Costello as our Head of School for the past 10 years and look forward to many great years to come.