Student Workshops with Inspirational Speaker Mike Smith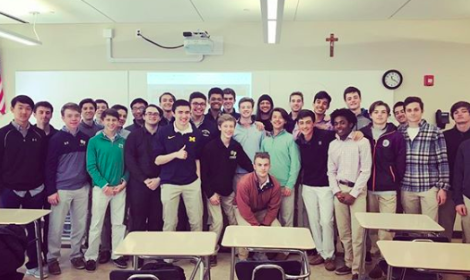 Students recently had the opportunity to meet and hear from Mike Smith, an inspirational speaker and entrepreneur who pushes youth to find their passions and make an impact on those around them. Throughout the course of the morning and afternoon, student leaders headed down to the workshop to learn from the interesting man and keep some advice in mind as they eventually reach college and adulthood.
Mike started things off by having the students take a survey on findyourgrind.com. Rather than listing a few "matched" professions or college majors like most "helpful" surveys online, this particular website allows people to see what type of lifestyle they fit, whether it be a humanitarian, analyzer, or connector. It allows people to broaden their horizons and see themselves in terms of different types of perspectives/styles, rather than a certain job. Soon after, Mike told everyone to go into the battery section of their smartphones and see how much time they spend on certain applications. By forcing the students to face the reality that they may be overly consuming social media or games, he emphasized the importance of time and the commitment it takes to become truly great at something. He said that if the time spent swiping a screen was used on a certain activity, hobby, or passion, then that time would absolutely have been spent for a better, more beneficial purpose.
He then shared his personal experience in regards to passions. In his case, Mike loved helping others and skateboarding, so following several long, strenuous years, he started up a couple nonprofits and opened up an indoor community center containing a skatepark, coffee shop, venue, and a soon-to-be high school. With his program Skate For Change, he has also teamed up with skaters all over the country to serve the community by aiding the homeless. Furthermore, throughout his life, he has chased "stories…not stuff," living a humble life in a tiny home (despite having the ability to live a luxurious lifestyle) while seeking adventures in his life. He said that as opposed to most people in today's society, who live a "GPS" life and live based on how they are expected to live (go to school, get good grades, go to a good college, get a good job, make money, etc…), he has made decisions based on his deepest passions to make an impact and seek adventures. All in all, he encouraged the listeners to pursue something they truly love, taking risks regardless of the failures they may encounter.
While opening up the conversation to the boys, he answered questions and made some very important points. For instance, he said that he values how he treats other people, mentioning that an important habit of his is celebrating others' successes. He added that being jealous of others' accomplishments inherently sets one up for failure and disappointment in life. Valuing others and showing appreciation, he said, makes people grateful and motivated to do well in their pursuits/duties. Similarly, he mentioned the magnitude of choosing right peers. He said that people, like in mathematics, can add, multiply, subtract and divide others. While some may greatly benefit a life, others may simply become a weight that detracts from one's goal. Additionally, when discussing important decisions, he talked about thinking backwards, meaning that actions should be based on its long term effects and whether one truly wants such an end in the future. Living based on what one truly desires and loves should be the main focus, rather than living according to expectations.
In conclusion, the session was very helpful for the teenagers, many of whom are college-bound in several months. They learned about the importance of passions and lifestyles that are beneficial and impactful. A slight change in perspective has allowed many to begin to put greater weight on their present decisions to bring about a desirable future.