Featured Student: Ted Babcock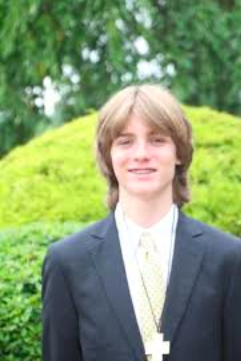 Ted Babcock is one of the most outgoing and friendly juniors, if not one of the most friendly members of the Oratory community. You can always spot him with his mane of hair and a smile on his face. From lacrosse to Campus Ministry, he's always around. This week, I sat down with Ted to interview this amazing man.
Nick: What things are you involved in at OP?
Ted: I do lacrosse, OP Service Book Club, the good old OPSBC, and Campus Ministry.
Nick: What do you like to do outside of school?
Ted: I like to relax, hang out, and play basketball.
Nick: What's your favorite subject and why?
Ted: I really like math, but history with Mrs. Martin has to take the cake. I enjoy the subject and she makes it more fun.
Nick: What's your favorite OP memory?
Ted: My favorite memory was sophomore year religion class with Mr. Camp.
Nick: What is your favorite thing about going to school at Oratory?
Ted: The teachers. They make the classes enjoyable. Also, with the way our schedule is, there isn't much homework.
Nick: Who is one of your role models at the school, and why?
Ted: Mr. Camp, because he gives good advice, he's a good guy, and he has some pretty good stories.
Nick:  And finally, what are your plans for the future?
Ted: My plans for the future are to be successful in my desired field of work, finance. I really just want to go on vacation when I have time to. 
Nick: Good answer.