From Fledgling to Forceful: Model UN at Oratory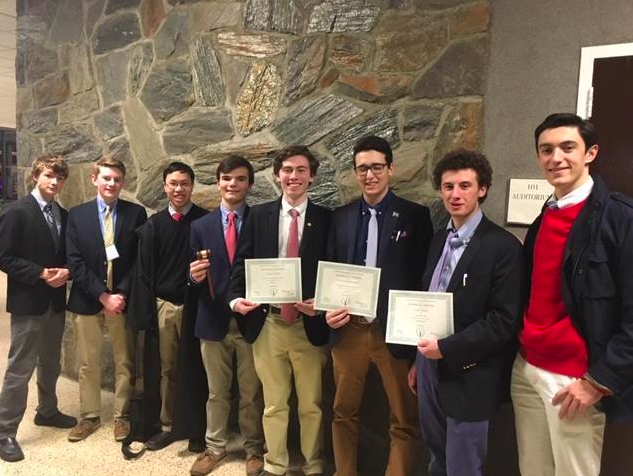 Jack Mogen, Staff Writer
March 28, 2019
The first meeting of the OP Model United Nations club was on a warm September day in the Bain Building, a motley crew of young Oratory gentlemen shepherded by Mr. Kearns and Mrs. Otterbein-Yoo gathered to discuss the birth of a new club. Our own founding members are now seniors as they fondly look back on their years in Model UN.  
Justin Oei, one of our founding seniors who has been instrumental to the development of the club, said that, "Model UN has been a formative experience for my high school years, and watching it develop and bloom into the program it is today has been just amazing." Justin along with Rocco Rodrigues and Tommy Gress, has maintained an impeccable ethic when researching conferences and making sure new members are prepared.
One such new member has now won best delegate at Academy Model United Nations after being prepared for his first conference, an achievement of which the entire club is extremely proud. Richard Williams, the junior who emerged from a conference room at Bergen County Academies victorious, now accounts his experience, an experience he never expected to turn out so well. 
"For the conference on Thursday and Friday, I showed up with Cole to the UNHRC as Ukraine and we did the topic of LGBTQ rights. During the debate for this topic, I was able to take the debate from one on the morality of the LGBTQ community and change it to one about rights. I was able to successfully make the argument that each sovereign nation should be able to create its own legislation regarding the LGBTQ community and that the UN should have no jurisdiction in this matter. When I made this argument all the Arab nations flocked to my side and they would remain loyal to my cause throughout the whole conference. In addition, the support for my argument allowed the debate to stall, and in particular, it alienated the progressive nations preventing them from imposing sweeping reforms. The main counter-argument to my point was that the death penalty for LGBTQ peoples in Arab nations was immoral however since as Ukraine that was not an issue for me and I held that issue for as long as I could until I imposed it to Somalia's dismay to help appeal to moderates. Therefore when it came to the final voting, Friday after dinner, both mine and the progressive resolutions touched on very similar things with the progressive resolution adding condemnation for other violence and an attempt at education programs. My resolution would fail, however, the one that passed was not opposing to my views and I would count it as a success."
"After the LGBTQ debate, we were almost out of time to talk about human trafficking. Therefore, after speaking on the speakers' list and in the first moderated caucus I was able to convince the vast majority of the conference to support a quick and simple resolution regarding it. Since everyone was able to agree that human trafficking was bad, Cole and I were able to quickly write and present a resolution which was passed by every delegate but China."
Using both researching, orating, and social skills Model UN members work towards solving current global issues. Either through cunning manipulation and political maneuvering or through a genuine passion to solve the issue genuine success is difficult especially when competing with more rigorous programs. Despite the relative youth of our program, we can count many of our members as successful, a fact of pride.
The future of Model UN at Oratory is bright. The influx of new members, as well as our senior members, bodes well for the 2019-2020 year. That as well as the potential for overnight conferences and maybe even hosting one of our own one day, speaks volumes to club evolution.