Chem Gordon: The 10th Grade "Legend"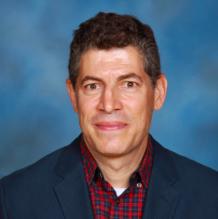 Mr. Andrew Gordon, the new teacher to Oratory Prep this year, has, in the opinion of most if not all 10th grade students, developed into an Oratory legend in the little time that he has been here. Every grade has a legend, and for the 10th grade (and a decent amount of the 11th grade) that legend is Mr. Gordon. Throughout his time as a teacher at Oratory, no matter how short that time has been, Mr. Gordon has transformed, in the minds of many students, into the better Gordon. Though 10th graders appear to be the driving force of his call to fame, many 11th graders who he also teaches recognize him as such too. From his clementines to his baller status to his class periods, there is no denying that Mr. Gordon is an OP legend (or at least a class of 2021 legend).
A prime example of Mr. Gordon's baller status was seen in the recent OP Seniors vs. Faculty game. Mr. Gordon was hitting layups, making assists, and running up and down the court like a champ all with his new sneakers which, in the opinion of Sophomore Brendan Kleinle, were "absolute fire"; he also helped to hype Mr. Gordon up before the big game. In the opinion of many students, Mr. Gordon was the main reason the teachers won. Without this baller, the teachers would have likely fallen to the students. However, with the skills, mindset, and attitude of Mr. Gordon, the teachers were successful in their attempt to beat the students. It is truly a mystery how they ever would have succeeded without him. In addition, Mr. Gordon has been seen many times after school balling like a pro. Witnesses have seen him drainings 3's like crazy in the DeGaeta Hall repeatedly. "The Legend" has also been seen juking out OP students, including those on the esteemed basketball team (after school hours, of course). Many students believe Mr. Gordon is a former NBA player, though that has yet to be proven.
A big part of Mr. Gordon's legendary status, however, comes from his relationship with his clementines. Only he himself can eat in the chem room, as he constantly has to remind his students. When thinking of Mr. Gordon, one phrase that all Sophomores would repeat, if asked for a quote from Mr. Gordon, is simply "No eating in the chem lab." Even though Mr. Gordon usually proceeds to eat a clementine at his back desk, he reassures his students that eating is not allowed. This leads students to believe Mr. Gordon is a trained professional in clementine eating/eating in the chem lab (possibly a college course) and is treated as such by the students. All available clementines are now given to Mr. Gordon knowing he will devour the snack.
Simply put, Mr. Gordon is an undisputable legend. He is the biggest baller the Sophomore class has ever known, and will likely remain the biggest baller most of the class will ever know. His clementines will surely go down in the OP history books and, of course, so will he.