The New Art of Slam Poetry at OP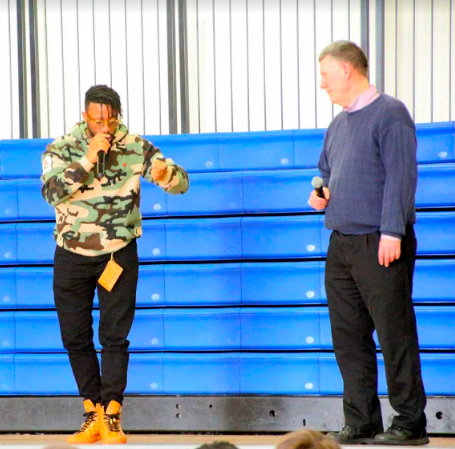 Hang on for a minute...we're trying to find some more stories you might like.
I'm not sure what to classify what occurred during this assembly, but it just might be one of the greatest assemblies that Oratory Prep has ever had. The students really drove this assembly, and all the laughs and jokes are what truly made it memorable. From starting off by cheering on making out with Judge Judy to Scottt getting his debut at our school, it was all around a great time.
So the basis of our assembly was these gentlemen from New York came to remind us of current events using slam poetry, while also revealing their lives to us and telling us that we too can become writers if we please. As intriguing as these performers were, the students are what drove the assembly to its new height. Scottt (and his dog Spott) were a personal favorite of the crowd, getting multiple standing ovations just at the call of his name. I think their message really spoke to the Oratory crowd and maybe even convinced some to start writing poetry or express themselves in other ways. Of course, one of the highlights of the session was Mr. Cranley, MC, and Father Scott teaming up to lay down some nasty beats. For those who could keep a straight face, the beats were pretty fire, but for everyone else, it was comedy gold. OP PAC found a gem with these performers and I can't wait for their next debut down the road,

Cole Noss, Staff Writer
Hello, I am Cole Noss. I am a member of the Class of 2020. In addition to writing for the Omega, I am also part of the History and Politics, Saint Philip...