OP Students Visit One World Observatory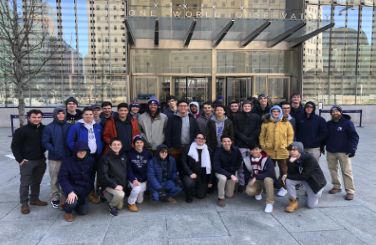 This past Tuesday, a group of OP students had the opportunity to travel to New York and see the One World Observatory. The field trip was offered to both those taking engineering and upperclassmen involved in OP's history club. About 30 kids attended and they were joined by Mr. Crum, Mr. McCrystal, and Mrs. Martin.
When arriving in New York at around 9:40 a.m., the students were able to grab a bite for breakfast and buy a cup of coffee or hot chocolate. They then had to meet up again at 10 a.m. in front of New York's tallest building. Everyone received their tickets to enter the One World Observatory and soon enough they traveled up an elevator that took them up 104 levels. Inside the elevator, there was a digital presentation of New York's history. It took about 30 seconds to get from the bottom all the way to the top. At the very top, there were even more presentations regarding New York's past and iPads were provided where visitors were given a virtual map of the city. Everyone overlooked the whole of New York City 104 floors up, and the students were even able to see Ellis Island and the Statue of Liberty from their view. Every building could be spotted along with parts of New Jersey as well. At around noon, the students took the elevator back down to the first floor and walked around the local New York neighborhood to find a place to eat lunch. Many chose Chick-fil-A or Shake Shack to eat, and by 1 p.m., everyone from OP met back at where the bus was waiting to travel back to school.
Overall, the field trip was a great experience for everyone who went as OP students appreciated famous architecture while also learning about how New York City came to be what it is today.