LLS – End of the Campaign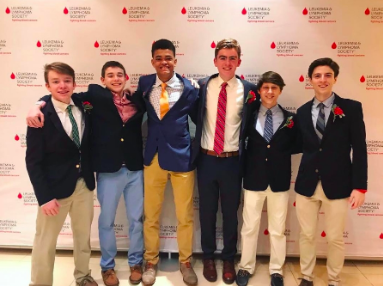 Hang on for a minute...we're trying to find some more stories you might like.
Beginning January 17th and ending March 9th, four OP Sophomores (Joseph Marchese, Aidan Philbrick, Logan Drone, and Liam Henderson) had the rare privilege in participating in the Leukemia and Lymphoma Society's (LLS) 2019 Students of the Year campaign. The SOY campaign is a 7-week initiative where select high school students throughout New Jersey raise funds and awareness for LLS, a truly amazing organization. LLS is the largest contributor to blood cancer research in the nation, having donated over $1.2 billion to date. They also do many, many other things like providing support and funds for patients and their families. The mission of the Leukemia & Lymphoma Society (LLS) is: "cure leukemia, lymphoma, Hodgkin's disease and myeloma, and improve the quality of life of patients and their families."
The SOY campaign ended last weekend, specifically Saturday, March 9th, after a long 7-week journey. The Grand Finale, as LLS calls it, ended the competition and celebrated all the hard work from the candidates state-wide. The event featured a silent auction, a DJ, awards, dinner, speakers, and the announcement of the grand total for LLS' New Jersey Chapter SOY campaign. It was an event where family, friends, and anyone else who wanted to support the Leukemia and Lymphoma Society got together and celebrated. The Grand Finale had over 400 people present, as projected for this year, and many more than last year. At the end of the night, they announced the grand total that the SOY campaign raised (just for the NJ Chapter of LLS). This year, the grand total was $483,847 all going back to LLS to help with their outstanding mission.
This year's SOY campaign was a complete success. Not only did participants learn crucial skills like teamwork, leadership, fundraising, etc., but they were able to develop these skills while raising money for an amazing and worthy cause. The Leukemia and Lymphoma Society is truly an amazing organization who has touched the lives of so many people worldwide. Participating in this campaign was an amazing experience for all involved, and one which will be remembered for the rest of the candidates' lives.