Interview With Student of the Year Runner-Up Recipient Aidan Philbrick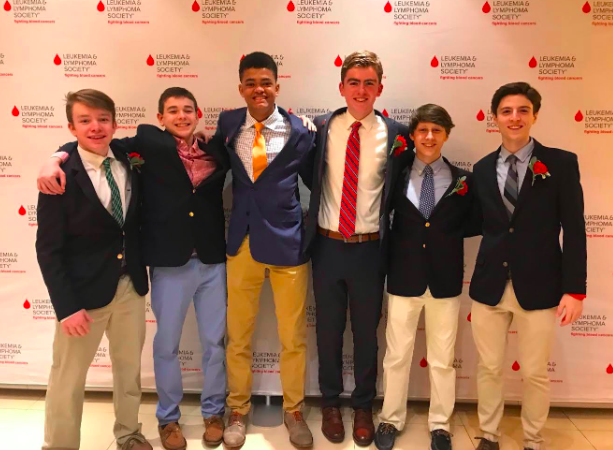 Logan Drone, Staff Writer
March 13, 2019
Over the last 7 weeks, sophomores Aidan Philbrick, Joe Marchese, Liam Henderson, and Logan Drone have all been raising money for non-profit organization LLS (Leukemia Lymphoma Society) under the Students of the Year Campaign. The four students comprised of two teams, The A Team (Aidan Philbrick), and Connie's Cure (Logan Drone, Joe Marchese, and Liam Henderson). With help from companies, families, and friends, the two groups looked to raise as much money as possible in the 7 week period. The three teams that raised the most money received awards of scholarship money to be used at the college of the students choice. Oratory Prep was blessed to have The A Team be one of those top three teams by raising the second highest amount of money out of 23 teams. Recently, I took the time to interview Aidan and get a better understanding of what an incredible feat he just accomplished.
What made you run for Student of the Year?
Well first off, I realized that this would be an amazing way to give back to the community that has given so much to me. In addition, many friends and family members of mine have been affected by cancer, and I saw this as an opportunity to help make a difference not only in their lives but the lives of all cancer patients.
What was your biggest motivation throughout your campaign?
My main motivation throughout the campaign was seeing the impact that LLS has made on the lives of people suffering from Leukemia and other types of cancers. Seeing that I could help such a great organization make an impact on the lives of innocent people really pushed me to work harder, knowing that these funds who make a huge difference.
What was the hardest part about running for Student of the Year?
One of the hardest parts about running for Student of the Year was finding the time to fit all of my events, letter writing, and calls in with the hectic schedule almost all kids in high school have.
What's the biggest takeaway you've learned after doing your campaign?
One of the main things that I took away from this campaign is that no matter what age you are, how old or how young, you can make a major difference in your own community and even around the world.
On a scale of 1-10, how excited were you when you heard your name called and why?
I would definitely say that hearing my name called would be a 11/10 for excitement. This is not only because all of my hard work was recognized, but also because the work of my excellent team members, Jon deMontagnac, Michael Viggiano, and Will Heff being three of them, was being recognized as well. (Also if she is reading this quick shoutout to my mom for all of the awesome support she gave me, couldn't have done it without her)
Looking back, what is one tip of advice you would give to someone running for Student of the Year?
One piece of advice that I would give to someone running for Student of the Year would be to get as much fundraising in as you can and make sure there are no "what if's" about your campaign. If you cover every base and collect all the money that you know you can, then this is a very amazing and fulfilling journey.
Overall, all 23 teams helped raise over $480,000 for LLS, with every single penny raised going straight to finding a cure for blood-related cancer. This total exceeded last years total by more than $140,000, ultimately showing that a cure for this type of cancer is certainly in sight! Congratulations to Aidan and to Liam, Joe, and Logan for taking the time out of their busy lives to raise money for such a worthy cause.