Featured Teacher: Mr. Corcoran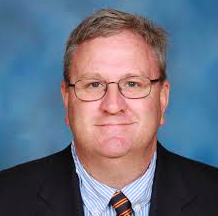 This week I was able to sit and talk to one of Oratory's finest history teachers, Mr. Corcoran. He told me some of his favorite things about OP and why he has stayed here for over ten years.
How long have you been teaching at Oratory?
11 Years
What brought you here?
I was aware of the good reputation that the school had and I wanted to become a part of that.
Have you taught anything else besides history?
I've taught all the history classes from 7th grade to 11th grade.
What else would you want to teach?
No, I'm a history guy and there's nothing else I would want to teach.
What do you think are some of the benefits of teaching at Oratory?
It's nice to have a smaller class size and to have conscientious students who want to do well which makes it easier to do your job.
Is there anything that you would want to change about Oratory?
No, I think everything here works fine. I know many people would want a different type of schedule but I think it works.
What are some ways that you like to engage with your students?
I think its a mix of notes discussion and fun activities. It lets kids learn in their best possible way.
What advice would you give to future students that are going to take your class
I would give them three pieces of advice. Take a typing class so you could take notes more efficiently. Work on your ability to listen and formulate meaningful questions. Stay focused on the prize of graduating and getting to a good college.
As you can see in some of his answers, Mr. Corcoran's true goal with teaching students here at Oratory is making sure that they are properly prepared for any class or major that they want to pursue in college. He strives to make sure that every student in his classroom will understand the topic to the best of their ability. We hope to see more great students leave Oratory after being molded into a history expert by Mr. Corcoran.