Basketball Trip to Upstate New York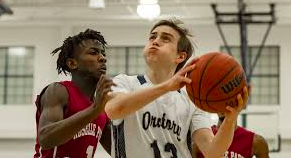 Will DeMilt, Staff Writer
March 13, 2019
Hang on for a minute...we're trying to find some more stories you might like.
Over the long President Day Weekend, the basketball team had a chance to better prepare themselves for states and practice team bonding by taking a trip to upstate New York and spent a couple of days at St. Bonaventure University.  Leaving that Friday, the team spent three days up in the cold weather and returned on Sunday. While this trip is starting to become an annual affair for the basketball team, it is sort of unclear what goes on during these trips.  To satisfy my thirst for answers I recently had the opportunity to sit down and briefly talk with senior basketball player, Liam McFarland, to talk about the three-day excursion.
Obviously, the Rowdies are curious as to what actually goes on on this three-day trip. So Liam, could you speak on what the daily schedule was like?
"Each day was different for the last time we were there. When we arrived at the hotel, we settled in, then left for dinner. After dinner, we came back to the hotel and got ready for an 8:30 pm practice which wasn't as bad as you might think. We ended up getting back to the hotel at 10:30. The next morning we woke up and had breakfast in the lobby, then showered and went to see the Bonnies' basketball team practice. Afterward, we ate on campus and went back to the hotel. We left to play the local high school, Allegany Limestone and beat them by 20 or so. The funny part about that was they were 17-2. Then we went out to dinner and came back for the night. The next morning we went to Spragues and had a nice breakfast. We then headed over to the Bonnies game against George Mason and watched a very entertaining game where their head coach became the most winningest coach in their history. We then suffered through a terribly long ride back home, but all in all, it was an awesome trip"
As a team, there was probably a lot of down time and time do things on your own. What would you say was your favorite part of the whole experience?
"It was probably the game at Allegany Limestone High School. We brought energy and noise to a pretty quiet gym, coming back from an 0-11 start. I think it was cool to see a different level of competition."
The basketball season just concluded a very strong season and next season it returns many key players especially sharpshooter Peter Byrne, Declan McKee, and Chris Morrison. Although the team lost in the first round of states to a very good Dwight-Englewood, it looks to feed off of the loss and use it as motivation for next year.