2019 Baseball Tryouts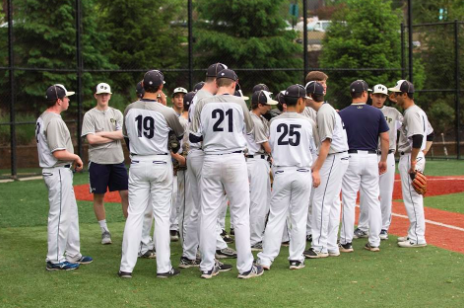 With yet another winter storm, spring athletes in New Jersey had to put their hopes for beginning the season to a halt. The buildup of snow on the OP turf had prevented the baseball stars of the school from hitting the field, and their gloves and bats had to sit around for another day. Despite the unfortunate weather, the boys were able to eventually get things started indoors in the Bain gym.
The batting cage proved to be the perfect place for the players to scrape off their offseason rust, hitting off front-toss and tees. The guys not only got back into their swings from whenever they last hit, but they also displayed their developed strength and skills from training in months past. Coach Maybe also enabled the guys to show off their strength with their exit bat velocity and throwing velocity. Meanwhile, the pitchers threw bullpens along the side of the gym, regaining their sense of in-game pitches with their fellow catchers. Despite being indoors, the players also still worked on defensive aspects. The guys fielded groundballs, tracked short popups, threw lightly, and worked on footwork to prepare for on-field plays. On days when conflicts erupted, the participants were able to travel to Frozen Ropes in Union and continue to display their offensive and defensive skills in the indoor-turf facility. All-in-all, despite not being able to play outdoors for the majority of tryouts, the sessions still proved to be efficient, allowing the coaches to take note of what talent is within the program.
Finally, at the beginning of the following week, the 50-degree weather happily melted the snow away and the boys were back on the field. After stretching and throwing, the players took their positions and completed an infield-outfield progression by fielding groundballs, catching flyballs, and throwing to the respective bases. Everyone was satisfied to finally have sight of the ball in an outdoor atmosphere in an area with much more space. The guys then took batting practice, finally getting to see their hits out on the field, and finally did some more defensive work while simultaneously working on baserunning. The whole group was content with the day, and after another day on the field, the coaches will take what they saw the past few days and determine the rosters for the upcoming season. There proved to be some serious talent on display, and the hopes are extraordinarily high this season for the varsity, JV, and freshman teams!