An Interview with Varsity Tennis Captain Luke Bernstein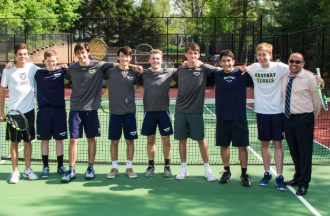 Now that the spring sports season is upon us, I was able to talk to one of Oratory's Tennis Captains, Luke Bernstein. He told me about how they did last year and what some of the goals are about this upcoming season and what his goals are as a captain.
How did the team do last season?
Last year we did pretty well, finishing over .500 with a record of 11-8
How does the size of this years team make you feel?
Last year we had 25 people between both teams and this year over 40 are trying out so it will definitely be different. Over 15 people will be cut so everyone will have to try their hardest to make even the JV team.
What are some strengths of the team?
I'm glad that five out of the seven Varsity Starters will be returning to the team this year and that addition of such much new talent that can bolster the great program.
What are some weaknesses?
One of our weakness if that we don't have one true all-star that we can guarantee to win our matches, so every spot on the lineup needs to perform to the best of its ability during every match.
What are some of your favorite things about tennis at Oratory?
One of my favorite things about OP Tennis is the interaction with both our coaches, Michael Manna and Will Sinden, We all have a fun time with them at practices and matches. I also like the team aspect, that everyone has to perform to their beth aspect to win.
What are some goals for this season?
Some of our goals for this season is to win the conference and to make it the quarter or semi-final of the State Tournament as that is where we ended last year.
What are your goals as captain for the team?
I hope that every position in the lineup has a winning record while having countless amounts of fun on the way to a Conference Championship. GO Rams!
All in all, I think that with hard work and determination, we can see this year's tennis team produce some solid players and have a great season with lots of wins.