OP Golf Preview with Alex Felitto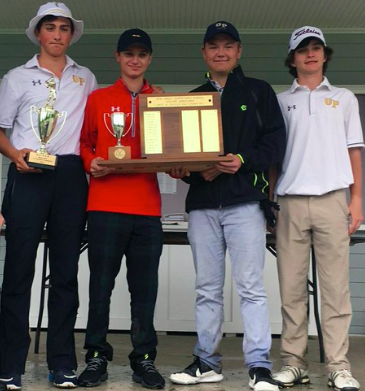 Standing in Bain Gym and looking at the numerous blue championship banners on the walls, people notice one thing in particular that stands out: the school's excellence in golf. While most athletic teams typically have up and down years, the golf team thrives on the conference and state levels on a consistent basis. One of the many factors revolving around the squad's victorious nature the past few years is the Felitto family. Not only is Junior Alex Felitto a dedicated golfer on the course, but his brother, class of 2016 alumnus John Felitto (arguably one of the most successful athletes from Oratory), has contributed much to the program as well and is currently continuing his career at the prestigious University of Notre Dame. I spoke to Alex about the 2019 spring season and his perspective as a golfer at Oratory.
Q: What are the expectations for the golf team this season?
A: This season we are looking to go undefeated in our regular season matches. In our tournaments, we want to do the best we can and continue to make it to the state tournament. We lost two starters from last year, so the returning players will have to take a little bit more responsibility. Overall, we want to have a successful and fun season.
Q: Who do you expect to be the key contributors?
A: Our key contributors this year will be captain Sean Vowells, Conor Snow, and Peter Byrne. All three of these returning starters are great players, and I think we will do even better than last year. Everyone else on the team is just as important, and at any moment we might need one of them to step up and help out.
Q: Do you have a particular opponent you look forward to playing?
A: My favorite team to play every year is Westfield. We have a long-standing rivalry and every year they are our hardest opponent.
Q: What is it like being the younger brother of Notre Dame student-athlete John Felitto?
A: My brother has taught me a lot about the game and is someone I can go to for help. Caddying for him in tournaments and watching him play has taught me many things that have improved my game. Playing with him elevates my game and gives me the opportunity to learn.
Q: What do you like about playing golf?
A: I've been playing golf since I can remember and it is something that I can't imagine my life without. Even though at times it can get frustrating, I always enjoy playing and practicing. Golf can be very calm but also intense depending on if you're playing for fun or for competition. My favorite time to play is during the summer with my friends for fun, and it is something I look forward to every year.
Q: Do you have any superstitions before/during golf matches?
A: I like to listen to music before I play, whether it be on the way to the match or on the range. Also, before every swing, I do the same routine which helps me get into a rhythm.
Although he will no longer be serving as the assistant to basketball team manager Nick Mascolo, Alex will soon be hitting the links and leading the team once again to some notable accomplishments. Coach McGowan will take charge of the group of boys, ranked No. 9 in the state by NJ.com at the end of last season, and with the majority of the starters returning, the season expects to be yet another successful one. So as Alex Felitto continues to practice his golf-swings throughout the halls and classrooms of Oratory, look out for some big headlines featuring the team's big wins this spring – Go Rams!