An Interview of Senior Lacrosse Star Joey Jarowicz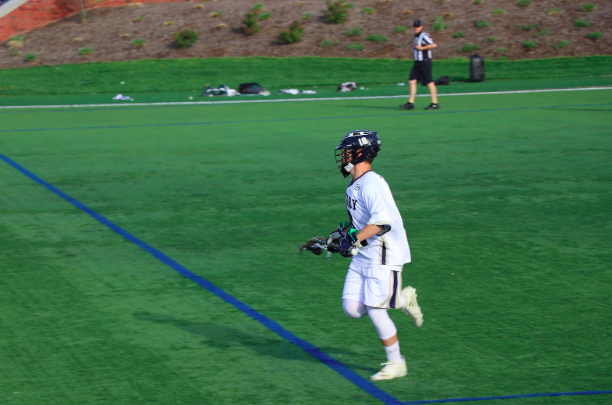 1. How long have you been playing lacrosse?
I have been playing lacrosse since freshman year in high school.
2. Was there a major influence that made you chose to play lacrosse?
I wouldn't say it was a major influence, but my friend, Christian, played and bugged me enough about it that I decided to give it a try.
3. Do you have any pregame routines? If so what are they?
Not really, I like to say a little prayer on the bus or in the locker room to myself but I don't do it before every game.
4. So as the majority of the student body knows, the lacrosse program has hired a completely new coaching staff. Do you have any expectations for this season? If so what?
I think my expectations are the same as always, even though we have a new coaching staff and a much younger team than in past years, my goal is to win every game and hopefully get lacrosse its first banner. There is going to be a learning curve for the young guys and for us to get used to our new coach but I don't think it's impossible as long as we all just work hard this year.
5. What made you play lacrosse in college?
When I first entered high school I was really into football and lacrosse wasn't even a sport I played. But after freshman year in a postseason meeting with my lax coach, he told me that he thought I could play lacrosse at the next level and I just embraced that idea, now I'm lucky to land where I did at Caldwell.
6. What attracted you Caldwell University?
It had to be Coach Klank [Head Coach of Caldwell] and the idea of being the first team in school history. Klank is one of the best coaches I had met on a recruiting trip and one that didn't play games with me, as some other coaches did. He also made it clear he wanted me by offering me a full ride during my first meeting with him. Being able to play lacrosse all year round and to be at a smaller school is also a great benefit of Caldwell and D2 overall.
7. As a senior and this being your last season at Oratory, do you have any goals or achievements left that you want to complete? If so what?
My biggest goal is to bring a banner to Oratory for the lacrosse team, it has been something we, as a team, have talked about since I transferred here and every year it's something that rests heavy on the seniors' shoulders. I also want to be a good leader and try to set a good example for the younger guys so that the program stays as good as it is and only gets better once I'm gone.
8. Throughout your numerous Oratory Lacrosse seasons, what school was your least favorite to play against? Why?
Haha, I  really don't like any of them, I know some players and some coaches from other schools but all the schools don't really have any attackmen that are nice guys and fun to play against, so most games are just full of chirping and stuff.
9. When looking back at your 3 years at Oratory, what is your favorite lacrosse memory? Why does this one stick out to you?
My favorite memory would have to be the pregame hype before Bergen Catholic or spring training in Florida last year. Spring break was awesome and before Bergen, it was super hype because everyone was doing crazy eye-black and it was a lot of fun.
10. Do you have any advice to the freshmen who are just beginning there Oratory lacrosse career?
I'd say always work hard, hit the wall a ton and do what your coaches tell you too even if you disagree. Hard work beats everything when it comes down to it and it'll get you everywhere you need to go in life. Plus if you worked your hardest, you won't have many regrets when you graduate.