Presidents Weekend Ski Trip to Smuggler's Notch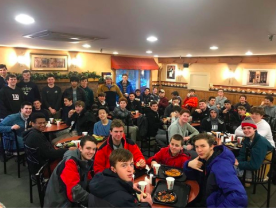 Students at Oratory have so many opportunities to have great experiences with their classmates. This could be at one of their grades retreats, a sporting event, or on a field trip. One of these trips is the annual ski trip up to Vermont. This trip lets students spend a long weekend with friends skiing in Smuggler's Notch. For those that don't know exactly what the trip is or what happens, here is everything you need to know about what happened on this year's trip.
We all met on Thursday afternoon to take the bus ride to Smuggler's Notch. After stopping midway for food, we made it to the resort with no problems. We all got our stuff off the bus and found the group of eight or so people we shared a room with. We got our room keys and found where we would each sleep. The next day we woke up, went to breakfast and came back to get our ski equipment on. Our room was right next to the lift so we didn't have to waste time walking around. After taking the lift up we had a choice of staying at this mountain or going to the bigger one. And after a warm-up run on the smaller mountain, we felt that we were ready for the next mountain. After taking a few runs, we went into the lodge for food and to check-in. After our break, we took two more runs and skied right to our front door.
That night we went to dinner and then had the whole resort to do what we wanted. Some of us went to Ben and Jerry's for ice cream and others tried out the laser tag arena. After all of that, we went back to the room and played cards and watched movies. The next day we woke up to another great breakfast and perfect day of skiing. After we finished skiing that day, we got changed for dinner and then from there got back on the bus and went to a small town outside of the resort to go to mass. That night we also had someone with a birthday in our group. So after we had mass, a small group of the kids in our room went to a general store by the room and bought candles and ice cream and came back singing Happy Birthday.
The next day we cleaned up the room and packed most of our stuff, but still made it out for half a day of skiing. After lunch at the lodge, we changed out of our ski clothes and into what we would wear for the bus ride. We put all the stuff on the bus and left for our seven hours drive back to Summit. We got back to Oratory around ten o'clock that night and even though we were tired from skiing all weekend, I think we were all ready to go back next year.