Triumphant Presidents Day Break for OP Basketball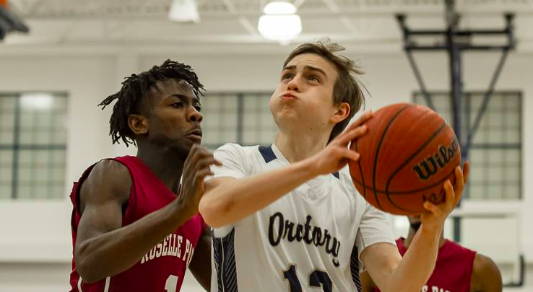 The Presidents Day break this past weekend proved to be a well-timed, restful period for the students and faculty at OP. Many traveled away, including those on the annual ski trip to Smugglers Notch, while others simply rested at home. However, Oratory's basketball team continued to put in dedicated work on the hardwood floor in Degaeta Hall, playing several games throughout the break and reaching a huge accomplishment for the program.
On Wednesday, OP basketball, determined to officially clinch their conference, hosted a home conference game against Hillside. The boys really brought their A-game to the A.J. Farrell gymnasium that night, outplaying their opponent every quarter. Following a tight two-point lead at the end of the first quarter, the team rallied and absolutely dominated Hillside, finishing with a score of 71-38. Sophomore Lucas Pavlounis paved the way for the Rams, scoring a game-high 26 points, while Junior Peter Byrne chipped in with 13. With this win, Oratory clinched the Union County Conference River-Division with a record of 8-2 (shared with Jonathan Dayton High School). For the first time since 2015, the school's basketball program is at the top of the conference, a feat that will stand proudly on the banner in Bain gym.
Following this game, in addition to dropping a tough one to Delbarton on Thursday night, the team traveled to St. Bonaventure University, the alma mater of Head Coach Daugherty. The players traveled, practiced, played games, watched the Bonnies play on the court, and enjoyed their overall bonding experience before they approach their last few games back home. In the one game they played on the trip in Allegany, New York, Oratory's ballers defeated Allegany-Limestone High School 73-56, bringing a similar approach to the game as they had against Hillside. Once again, Byrne and Pavlounis led the way, with 17 and 12 points, respectively. Freshman Tommy Conniff and Junior Declan Mckee also contributed ten points each.
After the boys hit the road and make their way back to Jersey, they will face a couple more games, against Madison and Glen Ridge, before approaching states. In the first round of the Non-Public North A Tournament, 12-seeded Oratory will be playing 5-seeded Dwight Englewood on February 26, with the advancing winner playing the powerhouse Don Bosco Prep on the 28th. With so few games left in the season, students should continue to support the team at the games, especially on Senior Night against Glen Ridge on the 22nd. Watch the Rams end their successful conference-winning season on a high note and seniors Mckee, Lauredant, Mcfarland, and Novak finish off their rewarding high-school careers!