OP Alums Come Back for Inspiring Presentation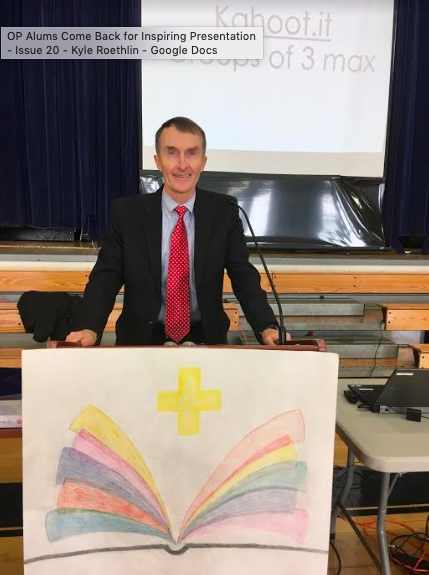 Hang on for a minute...we're trying to find some more stories you might like.
On Thursday, January 31st, OP Alumni Mark Soracco and Jeff Beer returned to give a presentation to OP religion classes. Their presentation, given to grades 7 through 12, discussed how OP men can carry their faith from Oratory to their successful lives ahead of them. Mr. Soracco discussed how it is challenging to follow the Lord after we leave the halls of OP, but following his example can help us be good men. He said that the 10 Commandments, rather than being annoying laws we are obliged to follow, are actually guides for us all to be good, faithful men. Mr. Beer then took over, using a Kahoot to engage the audience and discuss poverty and the Love of Jesus Christ. He then discussed the 7 S's, a series of words, like sobriety and service, that allow us to live good Christian lives. 
Mr. Sullivan, alumnus and alumnus parent of OP, also came to talk to Oratory students. He too discussed carrying the faith from Oratory to our lives beyond the classroom. Mr. Sullivan's presentation was enjoyed by all in attendance.
In all, everyone was able to take something away from the presentation. All the students present learned a lesson that they can carry with them for the rest of their lives. I would like to thank Mr. Soracco and Mr. Beer for coming back to OP to teach us all how to live good lives.