The Saint Philip Neri Club Welcomes CRS to OP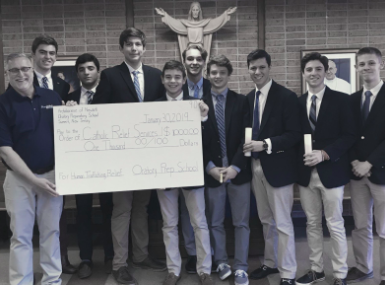 All year long, the Saint Philip Neri Club has been selling chocolate bars to raise funds for organizations trying to end human trafficking. One of these organizations is known as the Catholic Relief Services, or CRS, and their mission includes helping the poor and vulnerable overcome emergencies, earn a living through agriculture, and access affordable health care. CRS mainly aids those who are struggling overseas, and many times see the practice of human trafficking occurring right in front of their own eyes. Therefore, one of their goals is to stop those who human trafficking not only in the U.S. but across the globe.
During a school-wide assembly, the Saint Philip Neri Club presented a check of around $1,000 to CRS. One of their ambassadors came to collect the money, along with the Vocations Director for the Archdiocese of Newark, Fr. Gino, and another man who is currently enrolled in seminary. All three spoke to the Oratory community. The CRS representative set up a presentation for OP and in it, he showed statistics relating to poverty. For example, he discussed diseases and how many people die from poor sanitation or lack of clean water. The students learned more about what CRS is, and why they do what they do. Not everyone is as fortunate as you may think, and just like us here at OP, CRS wants to make a difference for those who are less fortunate.
The representatives from the Archdiocese visited us for this assembly because putting an end to human trafficking ties into the Catholic faith. After all, Catholics are taught to treat one another as equal. These men also came to talk about their upbringing and how they were called to become priests. One knew his whole life that this would be his vocation, while the other didn't really value religion until his later years. Both congratulated the OP community on its tremendous work raising money and encouraged all to continue helping those who need it. This was a great day for everyone at OP as it was a great learning opportunity regarding the mission of CRS and an inspiration to continue the push to end human trafficking around the world.