Featured Student: Nick Mascolo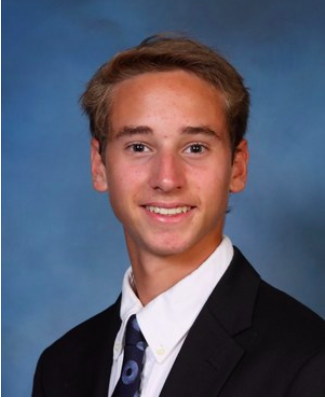 Whether he is lifting weights in the fitness center on an early morning (as the president of the fitness club), keeping stats for the basketball team with golfer Alex Felitto, or solving grueling problems in Mr. Schultz's AP or Multivariable Calculus class, senior Nicholas Mascolo is always involved with something at Oratory Prep. His academic and athletic attributes make him a gifted, well-rounded student, allowing him to be an important part of the school's tight-knit community. With the senior class only having a few months remaining in their high school careers, I decided to ask this particular student a few questions about his interests and future pursuits.
First, when asked about the current activities he partakes in, he listed a few his favorites, including managing the basketball team, being a member of Campus Ministry and running for the Cross Country team. He mentioned how he joined these groups early on in high school, which helped him get involved with the OP community and made his overall experience very enjoyable. Regarding academics, he stated that Calculus is definitely his favorite subject. Nick said, "It's challenging and very complex but when you can finally understand the content, it's very satisfying to solve problems." When asked about a favorite coach or teacher, he said that it would be very tough to choose just one, since he has a great relationship with so many different faculty members. He did mention "Mr. Barresi, Mr. McCrystal, Mr. Daugherty, Mr. Maybe, Sir Dr. Lord Allan Parsells, Mr. Schultz, and of course Mrs. Gribbin." When asked about his college plans, he stated that he has a choice to make between two colleges: the University of Michigan and Catholic University. He mentioned the two schools' stark contrast, as Michigan is a large state school with excellent academics and an exciting student life with a huge emphasis on athletics, while Catholic is a small private school in D.C. with smaller class sizes and an emphasis on the individual. It will be tough to choose, but wherever he goes, Nick will absolutely thrive in his goal of obtaining an engineering degree. In his free time, Nick may be binging anything on Netflix, watching his favorite movie Good Will Hunting or TV shows Prison Break and Big Mouth. Lastly, his last words of advice for the younger guys at OP include "Get involved and make the most of your short time here. Find stuff you enjoy and people you enjoy and make the most out of every chance you get."
Nicholas has been a significant member of the OP community through his participation in several clubs and his excellence in his classes, activities, and athletics. Wherever he decides to take his education, he will bring his talents and passions to the campus and be heavily involved with whatever the school has to offer. Look out for Mascolo to be honored at OP Basketball's Senior Night within the next of couple weeks!