An Interview with OP Fencer Cole Noss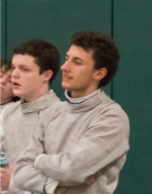 This week, I managed to interview Junior Cole Noss about his fencing prowess. Cole has had much success as of late and is consistently at the top of the fencing team. For some general fencing information, Cole is a sabre, one of the three different types of modern fencers (the other two are foil and epee). However, sabre differs from the other two types of blades in terms of how it is played. Whereas in epee and foil points are scored by thrusting the tip of the blade and hitting the opponent, a sabre can hit with the blade itself. Sabre is the most intense and physically demanding of all modern fencing forms. I asked Cole questions about the general state of the fencing team and what he thinks of his current performances.
Q: How would you say in your honest opinion the fencing team is currently doing?
A: We are currently doing our best with the members that we have. Our record may be 2-6, but much of our team is composed of freshmen. We have more hope for the future of the team when they mature and improve as players.
Q: How have you, personally, been doing this season? I have heard great things about your fencing ability.
A: I feel I have been doing very well. At meets, I have been winning all or most of my bouts, despite the rest of team losing. I have recently achieved 7th in the district at the meet in Livingston where all of the teams in the district gathered to play against each other.
Q: What about the fencing team keeps you coming back each year? It is a rather unknown team at Oratory, is it not?
A: I genuinely enjoy fencing, and I have since I started freshman year. My favorite teammate would have to be Andrew Stelmach, but I also have a great relationship with all of my teammates.
Q: What would you say to any would-be fencers throughout the school who are considering the sport?
A: Be prepared to work hard, but the payoff is completely worth it. Fencing is a very fun sport, especially for those of you who do not think you have the athletic ability to play a sport. The team doesn't cut, and there's always room for new people to join.
Thank you to Cole Noss for participating in this interview.
This message was brought to you by the Cole Noss corporation