Interview with FIFA Referee Mark Geiger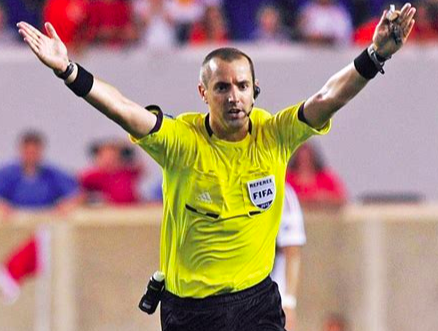 Mark Geiger has decided it's time to hang up the boots and the whistle after a long and illustrious career as an MLS and FIFA referee. Geiger, the first U.S. referee to officiate a World Cup Knockout Match (June 2014), will take on the role of Director of Senior Match Officials with the governing body of the U.S. professional refereeing, the Professional Referee Organization. In a recent phone interview, Geiger discussed his career on the field, his involvement with youth soccer in his home state of New Jersey, and the factors that spurred his transition from the pitch to the inner offices of PRO.
Geiger had been a soccer referee for 31 years before deciding to move in a different direction with his career. Not only did he spend 15 years on MLS fields, but Geiger has also officiated "two World Cups (Brazil 2014 & Russia 2018), MLS Cup, the final of the CONCACAF Champions League, and three Gold Cups." Geiger feels that he has met all of the goals he had set for himself.
Geiger shared his favorite refereeing moment as well as some of the challenges he faced with the whistle in his hand. Not surprisingly, his highlight moments are all of the World Cup matches where he served as the Center Referee. He could not put into words the feelings and emotions he experienced standing in the tunnel waiting to walk out into a stadium filled with thousands of fans, all diehard supporters of their respective teams. Geiger eventually described it as an "awesome experience as you are out there supporting your own country as well." While he could not identify a specific difficult moment on the pitch, he was able to describe many times where the environment would get a bit heated, with very vocal and agitated spectators that roused the player's emotions on the field. These types of games would typically be the most difficult games to referee.
Geiger says the most important way to reduce referee abuse is through education; education of fans, players, parents, and coaches at all levels. This problem can be seen at games with players as young as ten as well as with the experienced superstars playing in the finals of the World Cup. If parents, fans, and players better understand the Laws of the Game, there would be a dramatic reduction in the number of confrontations as well as arguments over calls made by experienced referees. Geiger also believes that parents, in particular, need to be more in control of their emotions because what they say and do can be seen in their children's actions on the field. In addition, he says, "The referees involved in the youth games are also just learning. Parents need to understand that their kids are not the #1 player in the world, so the referees will not be the best in the world. Both the kids and the referees are trying to learn the game" to become the best versions of themselves and to better serve the soccer community. He also points out that referees at every level are going to make mistakes, no matter how much training or prep they go through. No one should expect a referee doing youth soccer to call a perfect game.
One of the defining aspects of Geiger's off-the-field career was his time spent as a high school math teacher. Prior to becoming a full-time soccer referee, Geiger taught in Lacey Township, NJ for 17 years. He wholeheartedly believes that this experience shaped his refereeing style. He tried to always "manage the game" as much as possible, a skill that was also incredibly important when he was attempting to teach Calculus to 20-30 teenagers, all with different strengths and weakness. In fact, Geiger says, "If you want to be a great referee, you need to know how to manage players. The best referees know how to manage players to get the best out of them or to modify behavior when necessary." He also thinks that it is incredibly important to use every skill one has to reach an audience, whether it is kids in a classroom, or amped up soccer players. This allows one to try and create the best environment possible for all concerned.
Mark spoke about how he balanced his career as a math teacher while being a full-time referee. He would work five days a week in his high school, then switch out his teaching bag for his refereeing bag and hop on a plane. He was working seven days a week for over 9 months of the year. To catch up on his rest, Mr. Geiger would sleep all of Saturday until the game started, do the match, then hop on a plane and start the cycle all over again. Even though it was an incredibly grueling schedule, he said, "it was something to never give up, an awesome experience to see all these different cities every weekend, which is a thing that many of the referees take for granted." He recognizes that most people do not get to travel every weekend like a professional referee, and it is something he will never forget.
Geiger was eager to discuss the most important thing for people to understand about being a referee. He feels that everyone should know about the passion and dedication referees have for the game and the immense amount of preparation that goes into every week. He says, "it is not just a 90-minute job; the referees at the highest level train all week long, watch other games and attend biweekly reflection meetings at PRO headquarters to talk about the games from the previous week." Geiger describes the life of those referees working at the highest level by saying that they aren't just showing up and doing the game; they are training as hard or harder than the players while taking the game very seriously.
Not only has Geiger been a referee at the highest competitive levels, but he is also involved with Referee Development in his home state of New Jersey. He works with a development group in New Jersey that services the highest level of amateur competition in the state as well as lower-level professional leagues that create learning experiences for up and coming referees. He also does his best to mentor and be of service to the NJ Youth State Cup, despite all the demands on his time. Geiger tries to give back to youth soccer as much as he can since that is where his career started, as a 14 year old doing recreational games in his hometown.
Finally, Geiger spoke about his goals for PRO as he takes on the leadership role as Director of Senior Match Officials. He hopes to be an inspiration for his team, both as a referee and as their manager. He does find it a little strange to now be in charge of a group of guys who were his colleagues just last year, but he hopes that his experience will give him more credibility in his new role. He also takes on this position with a tremendous amount of respect for the referees he will now be managing as they have all served and assisted each other in previous seasons. His very recent on-field referee experience, Geiger hopes, will allow him to adapt his expectations to what is practical for the refs with whom he will be working. He expects that his first-hand knowledge, acquired from so many years on the field, will allow him to excel in his new role.
Over the course of an outstanding 31-year career, Mark Geiger has seen everything from students struggling with Algebra II to the knockout round of the FIFA World Cup. This New Jersey native has helped to put the US Soccer Referee Program on the world stage through his tremendous dedication and his tenacious approach to his job. He will now transition off the pitch, tuck his cleats and whistles into his bag for a while, and step back into an educational role as the new director of Senior Match Officials for PRO. Overall, the experience of being a full-time professional referee was the best part of Mark's life and a memory he will honor and treasure as he takes up his new position. He is truly a role model for all aspiring referees, teachers, and individuals who wish to live out their dreams on and off the soccer field.