Catholic Schools Week 2019 – An Overview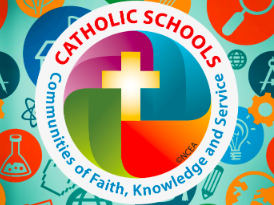 Hang on for a minute...we're trying to find some more stories you might like.
Sponsored by the National Catholic Education Association, Catholic Schools Week is "an annual celebration of Catholic education in the United States" (www.ncea.org). This celebration has been taking place since 1974, making 2019 the 45th consecutive year of the tradition, and certainly not the last. This year's theme, the same as the past couple years, is "Catholic Schools: Learn. Serve. Lead. Succeed." Every so often the theme for Catholic Schools Week is changed, but certainly not every year, and all years are very similar nonetheless. Some previous themes for the week are "Dividends for Life" and "Faith. Knowledge. Discipline. Morals." The Loyola Press talks about CSW saying it's "a great time to promote Catholic identity in your school community" which is exactly the celebrations goal. Catholic schools around the world participate in numerous activities to promote Catholic identity in Catholic school communities everywhere. Schools typically observe the celebration with masses, open houses, and other activities for students, parents, teachers, parishioners, families, and community members. Oratory is no different in that regard. Through this week, starting Sunday, January 27th and ending Sunday, February 2nd, Oratory will facilitate numerous activities for the entire school community. For example, Oratory will participate in a food drive for the Interfaith Food Pantry, present a check to help stop human trafficking to Catholic Relief Services, hold a mass at the end of the week, and do many other things to promote Catholic identity. All in all, the ultimate goal of Catholic Schools week, as summarized by the National Catholic Education Association, is simply to "focus on the value Catholic education provides to young people and its contributions to our church, our communities and our nation" which it accomplishes quite well. (www.ncea.org).