OP Musicians Participate in CJMEA Honors Band (Full Concert Audio Found Below)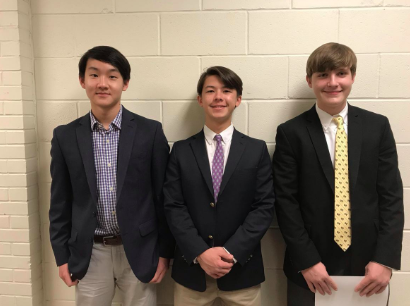 This past weekend, juniors Steven Fudenna, Jack Coyne, and James Kim participated in the performance of the Central Jersey Music Educators Association (CJMEA) Symphonic Honors Band. The group was made up of high schoolers throughout Central Jersey who are committed to playing their instrument and, as a result, recommended by their band directors to represent their school in the band. Steve and James brought their trumpets while Jack brought his tenor saxophone to Sayreville High School for several rehearsals and a pleasing evening concert.

Despite only having three days to rehearse, the members deftly sight-read the music while adjusting according to Mr. Burns' comments. I myself was astounded at how well the talented group, as a whole, was able to play the pieces (almost flawlessly) after picking them up for the first time and follow Mr. Burns so precisely. As the conductor of the group, Patrick Burns not only prepared the instrumentalists in such a limited amount of time, but he also provided an enjoyable environment for the group of students (many of whom had just finished the last tiring week of their marking period at their schools). He also educated the passionate musicians in several ways. For instance, he emphasized how the players should be imaginative and play according to how he or she believes the composer of the piece intended for the music to flow. In addition, he also spoke about his own experiences as a student and educator, while answering many questions from the students about his own personal interests and hobbies. All in all, he brought his seasoned presence to the band, as he has been a music professor at Montclair State University, a performer in several professional ensembles, a director for the symphonies at New Jersey City University, a composer for music for symphonic bands, and even an orchestrator of music for video games produced by Nintendo and Sony.

The songs performed on Saturday were "The National Anthem", "Cincinnatus March", "Gothic Dance", "Simple Song", "Caprice", and "Flight of the Piasa". As a matter of fact, Gothic Dance and Simple Song were composed by Mr. Burns himself. The parents of the musicians and the rest of the audience thoroughly enjoyed the music, while the conductor himself expressed his gratitude towards the teenagers for the smooth, fulfilling process of guest conducting the band. Congratulations to Mr. Van Hoven and the instrumentalists for representing the school at this honorable event! Feel free to listen to the audio recording of the performance attached to the article.